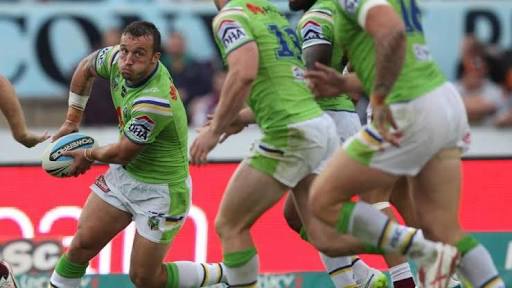 COMMENT: Raiders should punt greedy stars and ask Josh Hodgson what he wants
April 5, 2018
COMMENT
BY CURTIS WOODWARD
@woodward_curtis
The struggling Canberra Raiders are currently in negotiations with some of their biggest stars but if they play their cards right, they'll dodge four big bullets.

Despite starting this season 0-4 following a lacklustre 2017 campaign, a number of players are holding out for massive contract offers.

Blake Austin, Josh Papalii, Junior Paulo and Aidan Sezer are expecting top dollar from the club according to The Daily Telegraph.

Going on form, the Raiders shouldn't re-sign any of them. Austin and Papalii have already been dropped to reserve grade.

Despite the team's woes, the players are putting themselves first which is fine. It's also okay for the club to stand their ground.



Austin reportedly knocked back a $1.4 million offer. Papalii wants upwards of $800,000 a year despite being unfit and out of form, Paulo $700,000 while Sezer is yet to be offered a deal which may have something to do with the fact he hasn't found the form that made him a star on the Gold Coast.

They've rolled the dice up and lost. Whatever they thought they were worth two years ago when they made the preliminary final means about as much as a John Farnham farewell tour.

The club holds all the cards.

It's time for a clean out in the nation's capital. This roster has missed their window. The Raiders can build a new team around gun hooker Josh Hodgson. In fact, they should include the Englishman in the recruitment process. Ask him who he wants to play with.

The only out-of-contract players on the roster that deserve a new deal are Luke Bateman and veteran Sia Soliola.

Another subplot is the future of coach Ricky Stuart who has lost some in the change room. That might have something to do with a rumour doing the rounds that he doesn't want to coach anymore which may end up in Stuart moving into a management position at the club.

It only takes a few losses and a whisper to break a team.
The Raiders should start again. Bring a new coach in as soon as possible, shed unwanted players and hope Hodgson is still the player he was before he got injured.
It's not all bad for Canberra.
@woodward_curtis