All-time sledge: Nathan Brown drops a pipe bomb on Wayne Bennett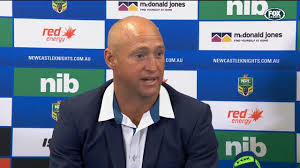 Newcastle coach Nathan Brown has hit back at Wayne Bennett with one of the game's greatest ever serves after the Knights overpowered Bennett's Broncos in Saturday night football.
Brown slammed Bennett after the former Newcastle mentor told reporters it was Brown's fault a number of big name players left the club after Bennett returned to the Broncos.
Brown was having none of it and blamed Bennett's failed marriage for the state of Newcastle's roster.

"The old fox, he's won seven premierships, he's coached for 30 years and I ain't ever publicly bagged Wayne or anyone," Brown said.
"And then he comes and has a shot at me. I just don't think he needs to behave like that.
"The reality is when Wayne came to town, if he thought with his big head rather than his little head I wouldn't have had to rebuild the joint."
Bennett started the verbal scrap earlier in the week defending his time in the Hunter.
"He has done a good job there, but we didn't leave it in bad shape," said Bennett.
"I'm not sure yet – well he unbuilt it, so I suppose if you unbuild it, the next thing you've got to do is rebuild it.
"That's what he's done. They've lost a lot of players in the last two years, three years, however long Nathan has been there."
We wait for Bennett's reply.