How far is too far? Why social media's rage could make Matt Lodge a victim too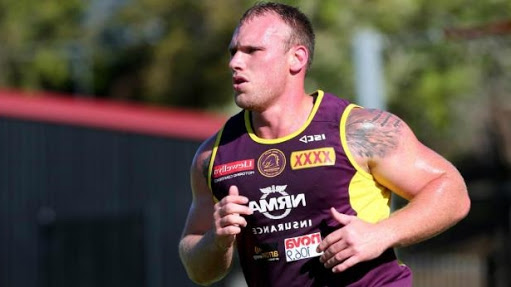 BY A.J NASH
As we speak, social media, the modern world's moral compass, is hammering the NRL and CEO Todd Greenberg for allowing Matt Lodge to play rugby league again. Tonight, the prop debuts for his new club the Brisbane Broncos against St George Illawarra at Kogarah.
We all know what Lodge did. It was disgusting. A real-life horror movie for the victims involved. Their lives were altered the moment Lodge stumbled into them. Nothing can change what happened. Lodge will have to live with that for the rest of his life – whether that is in his own head or in public where people will spend all of eternity whispering, pointing. That's his own doing. He can deal with that. These are the consequences of your actions, Matt.
Lodge signed with the Broncos to another round of moans and quite rightly too. Those that questioned Brisbane and the NRL back then had every right to raise their eyebrows. The majority waited until this last week to cry foul. Fact is Lodge must pay back what he owes those victims. There is no disputing this. Another fact is that he should do it the fastest way he can and that's playing footy. There's another reason Lodge should be playing the game and that's for his own wellbeing.
The NRL has made a decision and their sticking to it.
Some say Lodge hasn't shown enough remorse. The Sydney Morning Herald's Andrew Webster reported it differently.
"In the past two years, Matt Lodge has attended a six-week program at a rehab clinic in New York City for alcohol abuse, Alcohol Anonymous meetings, a six-week program at a rehab clinic in Castle Hill, further sessions every week at the same rehab for a year, worked in a soup kitchen in Emu Plains and was tested for a year for alcohol and prescription and recreational drugs and never returned a positive" Webster wrote.
"Fairfax Media has obtained and seen the relevant documents confirming this. The NRL's integrity unit has confirmed it has the same documents.
"They are part of the reason Lodge makes his debut for the Broncos in the season-opener against St George Illawarra at Kogarah on Thursday night.
"Other documents obtained by Fairfax Media show the NRL repeatedly knocked back Lodge's requests to return to the game, asking for him to continue counselling, education and exemplary off-field behaviour before it finally registered his contract in November last year. The obvious question is this: why didn't the NRL nor the Broncos reveal any of this to us sooner?"
The NRL has been on top of this from the start. We never had all the facts.
Should we keep twisting the knife?
How far do we go?
Far enough that Lodge quits the game and drowns in his own despair? Far enough that Lodge destroys the rest of his life and the victims never see a cent anyway? Far enough that Lodge becomes depressed and kills himself?
Let's not forget who the victims are. Matt Lodge is not one of them.
Those that ride the moral compass into work every day, fuelled by the fumes of Twitter outrage, seem to forget that everyone is human and the best of us can make the worst mistakes. How many chances does Lodge get? As many as you'd give your own son or daughter? As many as you'd give your husband or wife?
Rugby league is not black and white.
Life too is a dirty muck of grey.
But that, unfortunately, doesn't matter to a perfect few.
The81stMinute Call Team returns this Saturday at ANZ Stadium for Magpies versus Bulldogs – live from 1pm on steelesports.com.au!
*Views of this author are theirs and do not represent the views of The81stMinute