Rugby league community mourns the loss of Steve Folkes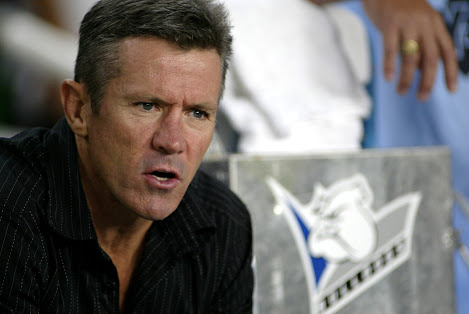 BY CURTIS WOODWARD
@woodward_curtis
The rugby league community is in mourning after the sudden and tragic loss of Canterbury Bulldogs legend Steve Folkes who passed away on Tuesday after suffering a heart attack. He was just 59.
Known as one of the fittest and toughest men to play the game, Folkes represented Australia and New South Wales and claimed premierships with the Bulldogs as both a player and a coach.
Canterbury CEO Andrew Hill issued a statement on behalf of the club.
"The club is shocked and saddened at the news of the passing of Bulldogs legend Steve Folkes. Steve played such a major part in the history of the Bulldogs, both as a player and coach, and was without doubt one of the giants of the club," he said.
"Steve symbolised everything that the Bulldogs stand for and was respected throughout the game for his toughness and determination. He never took a backward step and was loved by the fans for his courage and commitment to the club.
RIP Steve Folkes – a @NRL_Bulldogs to the core. Moley is in shock – one of the fittest men I've ever known.

— The Mole (@9_Moley) February 27, 2018
Shattered to hear my old coach Steve Folkes has passed away this morning!! Was a big part of my career! Prayers go out to the family and friends 🙏🏽RIP mate

— Willie Mason WMM 💯🇦🇺🇹🇴 (@mase21) February 27, 2018
Not a good day for rugby league with news of sudden death of @NRL_Bulldogs great Steve Folkes. Rest in Peace Folkesy.@Kangaroos @NSWRL

— Andrew Voss (@AndrewVossy) February 27, 2018
"His legacy as a Bulldog and what he did for the club will never be forgotten and our hearts go out to his family and friends at this difficult time. The club asks that everyone respect the privacy of the family during this time."
Many took to social media on Tuesday afternoon after the shock news.
"Shattered to hear my old coach Steve Folkes has passed away this morning!! Was a big part of my career! Prayers go out to the family and friends RIP mate" Willie Mason tweeted. A Bulldog who played under Folkes in the 2004 premiership-winning side.
Shocked to hear the passing of League legend Steve Folkes. An absolute champion to work with when I was at the @WestsTigers and he was our trainer. Such a humble and hard working bloke! #RIPFolksey

— Lote Tuqiri (@LoteTuqiri) February 27, 2018
Devastating news that former Bulldogs player and coach Steve Folkes has passed away

— Dean Ritchie (@BulldogRitchie) February 27, 2018
Steve Folkes R.I.P. pic.twitter.com/MtVNOJIiec

— Peter Wynn (@PeterWynnScore) February 27, 2018
NRL CEO and former Bulldogs boss Todd Greenberg was in shock when told the news in Brisbane.
"I'm a personal friend of Steve and his family," Greenberg said.
"I have known him for a long time and he was a fantastic guy. That news comes completely out of the blue. It wasn't that long ago that I saw him.
"He will be remembered as one of Canterbury's greats but more importantly, a really great man, a family man who's done a lot of good things for rugby league and the local community.
"I send my thoughts and condolences to his family and his friends."
Folkes played 245 games for his beloved Canterbury earning Kangaroos and Blues jerseys along the way. He most recently coached the Jillaroos side.
He will be sorely missed by everyone in rugby league and more importantly – by his family and friends.
R.I.P Steve Folkes.
@woodward_curtis