Qantas, Hugh Jackman and Vegemite: What Origin can learn from Australia's greatest exports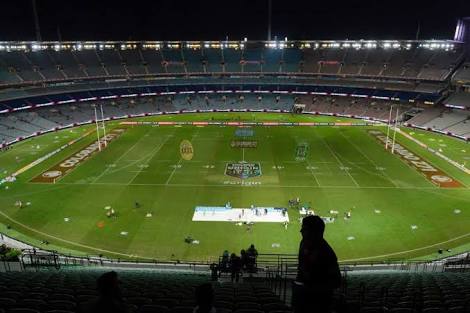 BY CURTIS WOODWARD
The Flying Kangaroo – we all know it. You could be anywhere in the world and get just a little homesick if you spotted that famous red tail. It's Australian and we're damn proud of it.
From a shack in Winton, Queensland, something special was born way back in 1920 – the Queensland and Northern Territory Aerial Services.
But what if they never expanded their operation? What if they only flew between Brisbane and Darwin? Do you think they'd still be around today?
Let's all walk into Qantas head office and tell them they can no longer fly internationally. Back to Darwin you go. The jig is up. Qantas is ours. The world can suffer!
Vegemite can only be enjoyed within the confines of our own borders too. How dare anyone else enjoy a delicious vegemite sandwich!
Russell Crowe? Hugh Jackman? Forget Hollywood. Send them down to Ramsay Street.
Sure, nobody drinks Foster's here but imagine if they never took their beer to London? They'd be out of business.
Which brings us to some State of Origin fans in New South Wales and those north of the border who huffed and puffed on Wednesday morning when it was announced that the rather impressive Adelaide Oval would host an Origin match in 2020.
Capital news!
What an exciting time to be a rugby league fan.
World Club Challenge this weekend, An NRL double header at Perth Stadium, Origin is back at the Melbourne Cricket Ground, England versus New Zealand in Denver and now the announcement that Australian rugby league's greatest showcase will play in front of 50, 000 South Australians.
What a time to be alive!
Not so much.
Some loyalists are upset that "their" concept is being ripped away from them. They're still yet to realise that they'll be watching the same players in the same coloured jerseys on the same sized field. They also have the option of staying home and watching it on television or actually – wait for it – jump on a plane! Aghast!
Someone on Twitter said, "Such a good idea, let's play New South Wales vs Queensland in a state that has nothing to do with it".
Another said: "Here's an idea, why not have it played in Sydney and Brisbane? Rather than shipping around the country like some sort of circus. There's already massive amount of Origin fatigue."
Sorry to say, but it already is a circus. The biggest and best around.
And what's better than growing the game of rugby league?
Getting paid millions of dollars to do it.
"The fact that this contest will be embraced by Melbourne, Perth and Adelaide in consecutive years is a significant coup for the game," NRL CEO Todd Greenberg said on Wednesday.
"Adelaide is a new market in terms of hosting this match but we know that Origin is a popular event in the city, as it is across the country.
"That will only be enhanced when Origin is played for the first time at such a historic venue like Adelaide Oval."
Imagine what they'll say when Origin is held in Hong Kong, Auckland and London? We'll never hear the end of it.
Over ten million people watched Origin in Australia alone last year. They're still going to watch whether it's played in Dubbo, Broome or the Antarctic. People love Origin.
The concept has outgrown NSW and QLD. In a good way. Be proud your state's jersey is being paraded to the world. Let's keep growing the audience.
And how about the tourism dollars that flows into Melbourne, Perth and Adelaide?
Over 90, 000 fans packed into the MCG a few years back to watch the Blues and Maroons. 30, 000 of them from interstate injecting $50 million into the local economy.
Everyone else now wants a piece of the action.
How can that be a bad thing?