Just like that: The death of Steve Folkes proves that life just isn't fair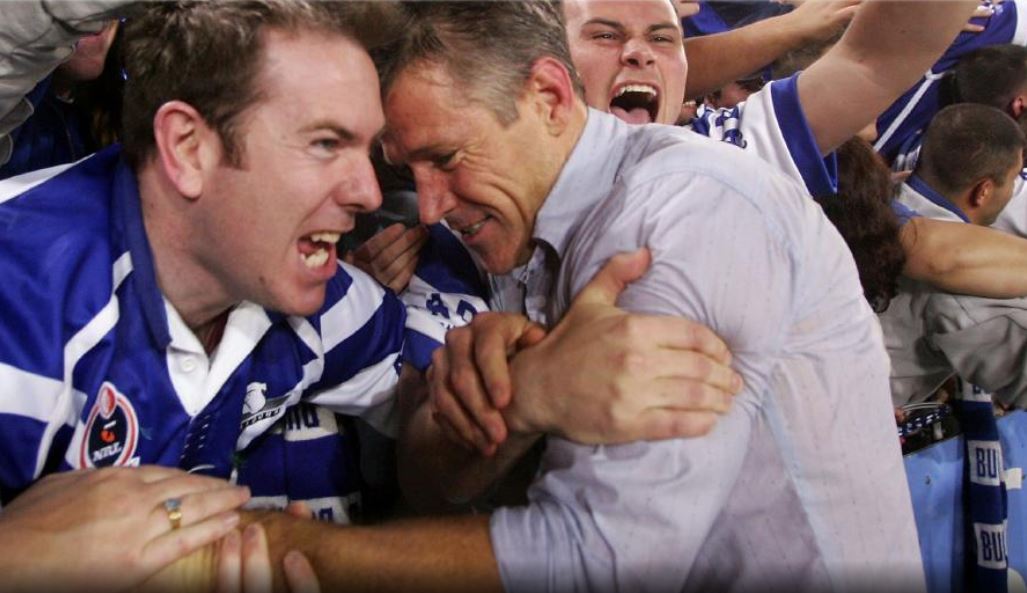 BY CURTIS WOODWARD
Some of us don't have that mental toughness Steve Folkes had. Some of us would prefer to drink beer and eat pizza instead of going for a run or hitting the gym. Most of us don't have what Folkes had physically either.
Some of us are meant to live forever. "He's how old? Yep he's a freak He'll live 'til he's 100!" That was meant to be Steve Folkes. One of the toughest, fittest men rugby league will ever know.
Life however has a sick way of shuffling the deck.
On Tuesday, Folkes dropped dead from a heart attack at the age of 59.
Gone forever. Just like that.
So old school was Folkes that we in this digital age almost don't deserve to write about him. After all, how would we know the way it was and what it takes to push yourself far beyond what you think you're capable of achieving?
Folkes won everything in the game because he worked harder than everyone else. And if he couldn't make the best tackle he could, he'd just make another 50 until he did. If he didn't win a fitness drill at training, he probably did a hundred more on his own. Nobody saw them but it doesn't mean it didn't happen.
From those that knew him best, Folkes was a quiet bloke that got on with it. He ran through brick walls every day. All in the mind. He claimed premierships, Australian and State of Origin jerseys, because he wanted them more than the guy on the other side of the field.
Not a good day for rugby league with news of sudden death of @NRL_Bulldogs great Steve Folkes. Rest in Peace Folkesy.@Kangaroos @NSWRL

— Andrew Voss (@AndrewVossy) February 27, 2018
Like everybody else I am numb at the news of Steve Folkes passing.Sadly it is almost 5 years to the day since he lost his wife Karen. Thoughts with his Family. So sad

— Darryl Brohman (@therealbigmarn) February 27, 2018
"Steve symbolised everything that the Bulldogs stand for and was respected throughout the game for his toughness and determination. He never took a backward step and was loved by the fans for his courage and commitment to the club," Bulldogs CEO Andrew Hill said.
"His legacy as a Bulldog and what he did for the club will never be forgotten and our hearts go out to his family and friends at this difficult time."
NRL CEO and former Bulldogs boss Todd Greenberg worked with Folkes at Belmore. Still in shock at hearing the news on Tuesday afternoon, Greenberg began speaking about Folkes like he was still here.
"I've known Steve for a long time. He was a good friend, and a very well respected and cherished part of the Bulldogs club," he said.
"He'll be remembered as one of the Bulldogs' greats, but more importantly a great man – a family man and someone who did wonderful things for rugby league."
This is a guy that never took a backward step and never took a shortcut.
From Punchbowl Boys High School to four premierships as a player, another as coach and memories to last a thousand rugby league lifetimes. And the only reason he achieved anything is because of his dedication. Because he tried and when his legs gave out, he picked his body back up and went again. He trained how he played and he played how he trained.
Rugby league is full of "coulda, shoulda, woulda's".
Vale Steve Folkes 💔

The former Kangaroo died aged 59 after suffering a heart attack.

We send our condolences to all of his family and friends at this difficult time.#NRL pic.twitter.com/oiYtE8Fcbr

— Australian Kangaroos (@Kangaroos) February 27, 2018
Hard to find the words with the sudden passing of Steve Folkes. A great friend to me personally & admired by many people across the game. Condolences to all his family & friends and to everyone at the @NRL_Bulldogs who admired his loyalty, toughness & leadership

— Todd Greenberg (@Todd_Greenberg) February 27, 2018
Folkes was the quintessential opposite.
Yet here we are pondering the meaning of life.
"He was a fitness fanatic, people loved him, I don't think there's too many people who spoke badly about Steve Folkes," Bulldogs legend Terry Lamb said.
"Tough on the field, he epitomised what the club was."
The Bulldogs grieve. They've lost another one. Folkes is now alongside his late wife – the daughter of another icon passed – Peter Moore.
Sometimes life isn't fair.
Folkes' death is absolute proof.
Next time you need motivation to get up and put the running shoes on, think about Folkes who would have gladly ran for another 59 years if the powers that be allowed. They had other ideas.
Yet here we are. Taking every breath for granted.
Sometimes, life just doesn't make sense.