Get expanding: Wigan boss threatens 'insular' NRL with a Perth Super League team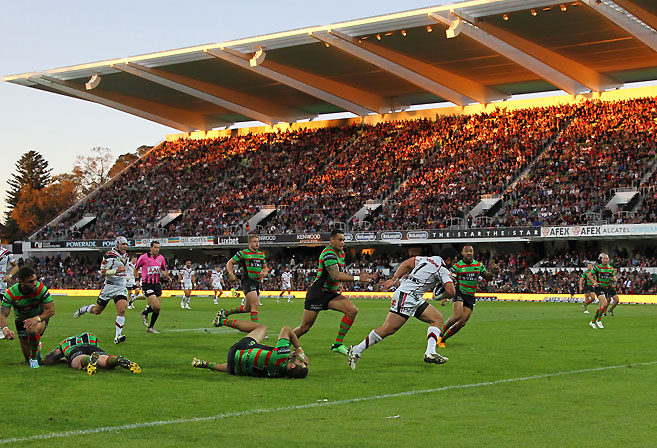 BY STAFF WRITERS
Wigan Warriors owner Ian Lenagan believes the English Super League will expand into a fully-fledged international competition within five years and has hinted at a Super League side based in Perth if the NRL doesn't hurry up with expansion plans.
Lenagan is currently in Wollongong ahead of Super League's first ever top flight clash outside of Europe with his club set to face Hull FC on Saturday night.
"Super League will be an international competition in five years' time," Lenagan told The Illawarra Mercury.
"I believe at that time, as well as the English clubs, we'll have Toulouse, we'll have Perpignan, we'll have Toronto, we'll probably have New York within that time scale.
"The Super League is doing a lot of innovative things to take the game forward. The 12 clubs are working tremendously well together, that's how we got permission to do this [Wollongong game]."
First grade rugby league left Perth at the end of 1997 when the ARL and Australian Super League came together to form the NRL.
"Who knows, if the NRL don't do something about [expansion with] Perth, with a single flight back to England it wouldn't at all surprise me if they became interested in playing in a competition of that scale."
Lenagan also said the 'insular' NRL needed to put international rugby league first in coming years.
"I think [the NRL] is more than slightly dropping the ball," Lenagan said in an exclusive chat with The Illawarra Mercury this week.
"Why on earth aren't the NRL clubs' recognising that their franchise would be worth 10s of millions [of dollars] if they would actually treat international club rugby league the right way.
"For the last 10 years it has been the best competition in the world and, because it's the lead competition in the world, it needs to stop being so insular.
"I understand politics is a huge factor within the NRL, but they have a classic opportunity that they're neglecting."
NRL clubs are still considering whether to release players for the proposed Denver test match between England and New Zealand to be played on the representative weekend mid-season.