Forever grateful: Croft thanks idol Cronk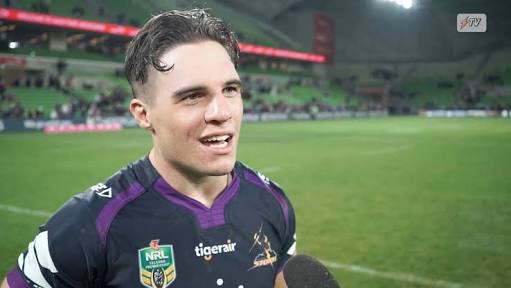 They could be clones but rookie Melbourne Storm half Brodie Croft doesn't quite boast the credentials of his mentor Cooper Cronk just yet.
The Storm begun the post-Cronk era with Croft leading them to a World Club Challenge victory against Leeds.
Croft looked like a veteran at AAMI Park but could only thank one man on Monday.
"I've got to pinch myself every now and then and remind myself what I'm doing because I'm living most the dreams of most young half backs at the moment, filling the half back spot for the Storm and taking over from Cooper Cronk who was one of my idols," Croft told SEN.
"To have him as my mentor over the last couple of years and take over his spot and hopefully make a name for myself is pretty special.
"(When he left) he wished me all the best and I wished him all the best. He's been pretty incredible for me, the way he took me under his wing and mentored me, I'm forever grateful for what he's done for me."
Melbourne kick off their NRL campaign with a round one clash against Canterbury in Perth.