Thurston up for prestigious 'The Don' award at tonight's Sports Hall of Fame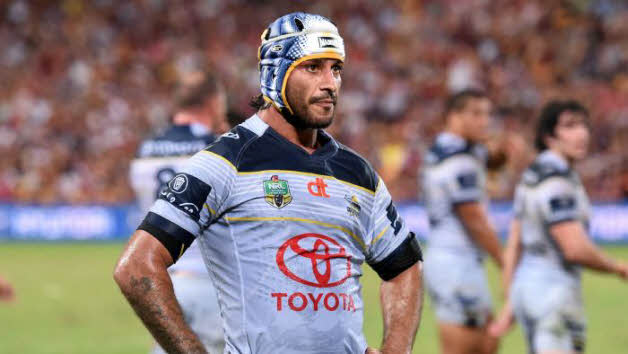 BY CURTIS WOODWARD
@woodward_curtis
Injured North Queensland Cowboys legend Johnathan Thurston won't be at the World Cup due to injury but the mercurial halfback could finish the year with an award from the prestigious Sport Australia Hall of Fame tonight.
Thurston has been nominated for 'The Don' – given for "epic feats" over the last 12 months.
"The Don Award is widely regarded as Australia's leading contemporary sporting award and is named in honour of Australian sporting legend and first Sport Australia Hall of Fame Inductee, the late Sir Donald Bradman AC," the website reads.
The little playmaker has been rewarded for his heroics in the 2017 State of Origin series where he valiantly battled what would be a season-ending shoulder injury to keep the Maroons alive. He then watched on as his Queensland teammates clinched the series in Game III.
"Rugby League star and 2016 The Don Award finalist Johnathan Thurston once again had Australians on the edge of their seats, this time at the 2017 State of Origin," it reads.
TONIGHT | Aust. sport's night of nights, '33rd Induction & Awards Gala Dinner' celebrating our greatest sporting achievements past & present pic.twitter.com/6v4a5WL6P3

— Sport Aus HallofFame (@SportAusHoF) October 11, 2017
"After missing the opening match in the series, Thurston returned only to suffer a serious season ending shoulder injury early in the game but played on, nailing a crucial and difficult conversion late in the match to keep Queensland's series alive."
Thurston however will have some stiff opposition for the event to be held at Melbourne's Crown Casino. He's up against the likes of Aussie boxing hero Jeff Horne and the all-conquering Matildas football team.
@woodward_curtis