Taumalolo nightmare: Heavyweight Kiwis are headed for an early World Cup exit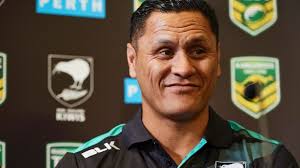 BY CURTIS WOODWARD
@woodward_curtis
Jason Taumalolo's defection from New Zealand to the Tongans for the upcoming World Cup could be the final nail in the coffin for Kiwis coach David Kidwell who is already missing a swag of star players.
It's a painful blow for Kidwell with the news on Wednesday morning that premiership-winning Melbourne ace Tohu Harris would not play in the tournament due to injury.
It got a thousand times worse when news broke that the world's best forward Taumalolo would play for Tonga – not New Zealand – at the World Cup.
The Kiwis are already without Jesse Bromwich and Kevin Proctor due to suspension and Kieran Foran who has decided to get his body right for Canterbury's 2018 NRL campaign.
"I really enjoyed my time within the Tongan World Cup squad last time and I have a long time association with Tongan coach Kristian Woolf," Taumalolo said in a statement via his agent.
"I just feel it's time to give back and hopefully I can assist and inspire young Tongan players to chase their NRL goals.
"I see with the new international rule change an opportunity to represent both Tonga and NZ throughout my career. I have and always will be proud to wear the Kiwis jersey. I just feel the world cup provides developing nations like Tonga an opportunity to play on the big stage and I would like to help them with their campaign."
Wow Jason Taumalolo choosing Tonga over NZ… What a champion.

— Joel Thompson (@joel_thompson12) October 4, 2017
BREAKING: champion forward Jason Taumalolo has pulled out of Kiwi World Cup side to play for Tonga. details @telegraph_sport ASAP

— BUZZ ROTHFIELD (@BuzzRothfield) October 4, 2017
Jason Taumalolo will play for Tonga at the #RLWC2017 according to @BuzzRothfield! pic.twitter.com/uN2v05A2YV

— 81M (@The81stMinute) October 4, 2017
The Kiwis are in big trouble. Their woes blow the World Cup wide open and while Australia will start hot favourites, there is a huge opportunity for another nation to step up to the plate.
New Zealand will face Scotland and Pacific foes Samoa and the team Taumalolo will now represent Tonga in the group stage.
Samoa and Tonga should be licking their lips. If either of these teams can shock the Kiwis and win their other two games they'll finish the top of their pool pushing New Zealand into second place.
If quarter-final results go as expected, New Zealand will be forced to play the Kangaroos in Brisbane in the semi-finals. That would also mean a semi in Auckland that would not feature the New Zealanders.
Fellow players came out in support of Taumalolo for choosing to play for a developing nation ahead of the heavyweight Kiwis.
"Wow Jason Taumalolo choosing Tonga over NZ… What a champion" Dragon Joel Thompson posted on Twitter.
In reply, Samoan International David Nofoaluma said, "Tonga and Samoa should be 1st tier teams. Then every player will rep their respected countries.."
These are dark times for Kidwell.
The worst part is, a World Cup ball hasn't even been kicked in anger yet.
@woodward_curtis