Roosters Fly: Cooper Cronk will never play against the Melbourne Storm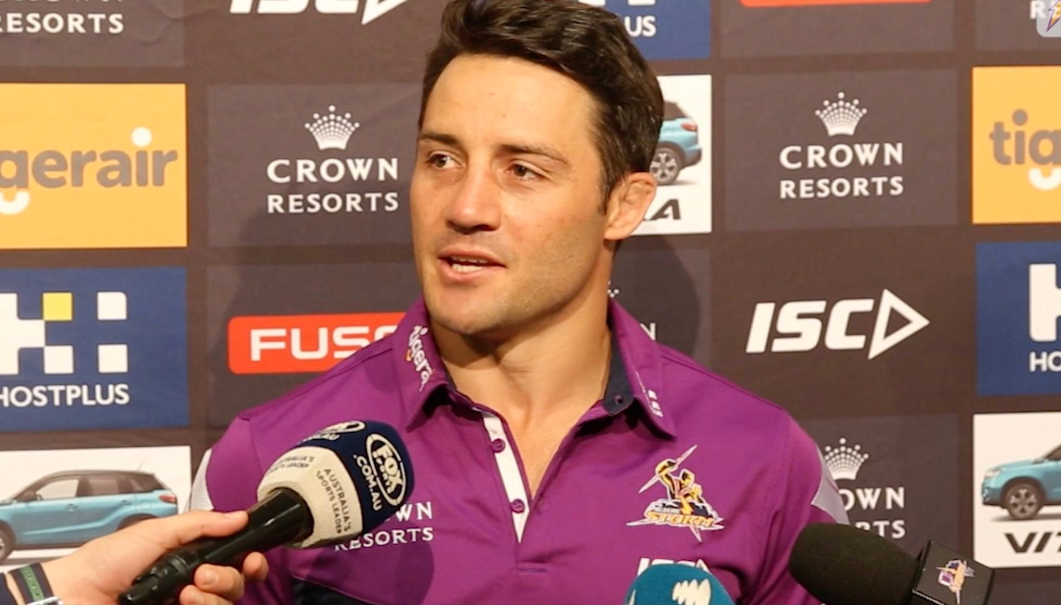 BY CURTIS WOODWARD
Nothing boils quicker in rugby league than a rumour. Media types – let us call them mogwai – get a sniff and then it's on like Donkey Kong. The mogwai repeat it, report it and before you know it every outlet in town is writing the same thing.
The mogwai know they shouldn't eat after midnight but they can't help themselves. A nibble becomes a bite and a bite becomes a feast. And then BAM! They're all feeding and doing backflips into the swimming pool – festering and mutating as the snowball gains speed.
Cooper Cronk to the Sydney Roosters is the latest whisper on the menu.
Apparently the story just won't go away despite the fact that the man himself hasn't even hinted at a move to Allianz Stadium. Here is a guy that has just won a premiership in his very last game for the Melbourne Storm, a club he represented 323 times, so in love with fiancé Tara Rushton that he's willing to give up his working relationship with Craig Bellamy, Billy Slater and Cameron Smith to move to Sydney. Here is an articulate student of the game with a mind few in rugby league can match. Is he happy to gamble his Storm legacy and a guaranteed career in the media for one more NRL season in the Harbour City?
"We have no new progress at this stage regarding Cooper's future intent," Cronk's manager told The Daily Telegraph on Thursday.
"He is considering his options and hopefully we'll have more to convey soon."
While we wait for Mr. Cronk, let's consider his comments made recently at Melbourne's Player of the Year night.
"How do I break up the next couple of people," he began.
"Craig (Bellamy), Cam (Smith) and Billy (Slater). Some people call myself, Cam and Billy the big three but if you're going to talk about the most influential people at Melbourne Storm, I think those three guys are easily the most influential at the footy club and I've just jumped on the back of them for the last 14 years to be honest."
And later…
"To Cameron and Bill — I tell you what we balled our eyes out the other day when we presented each other jerseys, it is emotional once you develop relationships over a long period of time and we all met in 2001."
Does this sound like a man that's playing on?
.@Storm have farewelled departing halfback Cooper Cronk in perfect fashion. #NRLFinals #7News pic.twitter.com/GaNa4Hmnd2

— 7 News Melbourne (@7NewsMelbourne) October 2, 2017
#EXCLUSIVE: Molly Meldrum chats to @caineyten on what he thinks Cooper Cronk's next play should be #TenNews pic.twitter.com/UL7X4MsskS

— TEN Eyewitness News (@channeltennews) October 2, 2017
You can say only Cronk knows if he's going round again but you'd be naïve to think he hasn't already told his coach and his best mates.
The only thing he loves more than the Storm is his future wife.
Do you think he'd ever play against them?
Is he undecided on his future or simply respecting the Kangaroos jumper?
If there is one player in rugby league that can't be bought its Cronk unless it's Fox Sports signing him up for life as an expert commentator?
"There's a little bit of a whisper that the Roosters were in at NRL headquarters asking for advice on how they could get Cooper under the salary cap, and what they'd need to do and what chairs they'd need to shuffle to make that work," News journalist Paul Kent told Fox Sports' NRL 360.
"This won't be for a notional value. This will be for a pure contract amount.
"You hear Cooper mentioned with a lot of clubs and I think there's a lot of dominoes with (James) Maloney and (Matt) Moylan.
"Once one starts to go, I think a lot will happen quickly.
"But at the moment it's like nobody's quite sure where it's going to come from."
Dominoes might fall but none of them include Cronk.
The great halfback is playing his own game and the only participants playing are Cooper and Tara.