How the Nazis helped destroy French rugby league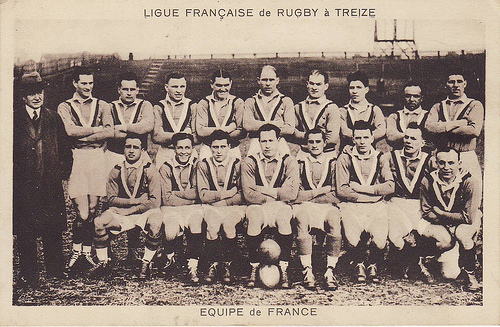 BY CURTIS WOODWARD
@woodward_curtis
It has been a long, long time since France defeated Australia in back-to-back Test matches in 1978 – longer still since they last appeared in a World Cup Final.
The history of our sport in France is easy to forget as we slip in and out of International rugby league consciousness.
French rugby league's story has been told before but it must be continually refreshed for here is a game that has been repressed by a bitter ugly sister we like to call rugby union and an unholy alliance with the German Nazi Party back in the 1940's.
You see, rugby league was thriving in the 1930's and the preferred "rugby" code and as its popularity grew – fans flocked to see the free-flowing, fast-paced action of this new version of the game. Rugby union was on its knees. By 1939, league boasted over 200 amateur clubs and became the first French outfit in any sport to defeat England on English soil.
Then, World War II erupted and changed everything.
In May 1940, Germany invaded France and in doing so, instilled the Vichy regime who had strong ties to the rugby union administration.
Rugby league was as good as dead.
Under Nazi order, the French rugby league immediately lost their stadiums, players and financial backing and labelled "corrupters" of the youth.
"The fate of rugby league is clear," Sports Minister Jean Ybarnégaray decreed at the time.
"Its life is over and it will be quite simply deleted from French sport."
https://t.co/0ePBiwLeIo of Sports de Sydney.
Centre d'entraînement de l'équipe de France. #RLWC2017 #ALLEZLESBLEUS #FRANCE2017🏉🏉🏆🏆🇫🇷🇫🇷🇫🇷 pic.twitter.com/XgVY6iYjBD

— 🇫🇷Fédération Française de Rugby XIII🏉 (@FFRXIII) October 17, 2017
League wasn't even allowed to call itself a version of 'rugby' until 1989.
A government enquiry in 2002 said: "The action against rugby league was the result of steps taken by the French rugby union federation which saw an opportunity to get rid of a dangerous rival."
L'équipe de France accueillie par le Consul de France à Sydney. 🇫🇷🇫🇷#FFRXIII #RUGBYXIII #ALLEZLESBLEUS #RLWC2017 🏉🏆🏉✈🇫🇷 pic.twitter.com/fWU6zV8Jqa

— 🇫🇷Fédération Française de Rugby XIII🏉 (@FFRXIII) October 16, 2017
French rugby league fought valiantly for decades after World War II – sweeping Australia on their Kangaroo Tour of 1978 and making World Cup Finals in 1954 and 1968 but they would never ever be the same.
There is no doubt that league could still be the dominant rugby code in France today if it wasn't for the Vichy regime and those Nazi Germans.
Unfortunately, we will never know how strong they could have been.
Rugby league's horrendous treatment and attempted eradication is still felt today in France.
It will never be the same.
@woodward_curtis