Why Sydney's "Westies" should be supporting the Cowboys – not the Roosters – this weekend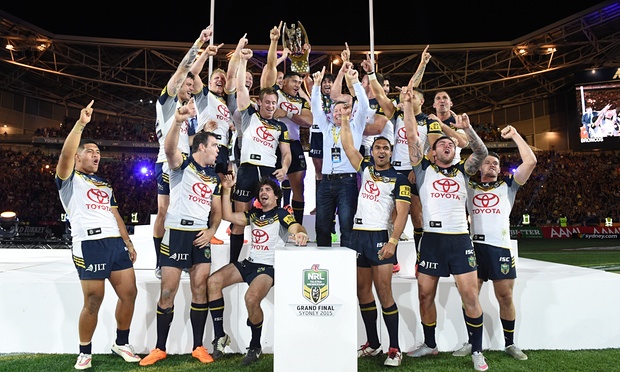 BY CURTIS WOODWARD
@woodward_curtis
Attention Sydney! The Roosters need you! As the only team left from our dear city in the running for the NRL premiership, the Tricolours need your support.
Yeah, nah – let's not and say we did.
Sorry Uncle Nick but we'd rather eat razor blade sandwiches.
Okay so granted this writer has a little soft spot for the Roosters. It's faint and you can find it somewhere near the end of the little toe. That soft spot comes from a childhood obsession with Brad Fittler's deadly sidestep and that amazingly catchy 'Roosterman' song by Doug Parkinson they used to play at the ground.
Surely you've heard it? It's a cracker!
But that's about it.
That's where the love ends.
Any self-respecting league fan in the Harbour City would rather see a Queensland side go through to the grand final than the glamourous Chooks from Bondi.
So let's break it down.
The majority of Sydney lives in the West – in the suburbs. Real Aussie battlers that would prefer a "cuppa" to a latte. And while we disagree with those folk in Townsville about the colour of our beer can, we at least agree that it should be bought in a slab – not at a hipster bar for $10 a bottle.
We also like to know what the beers are on the taps at our local watering hole (have you ever been stuck in an obscure bar and the only liquid gold on tap are 'Hairy Purple Wolf' or a 'Cats Pyjamas' or a 'Insert absurdly weird name here').
Most of us also don't walk around in singlets with the sides ripped out – what the hell is that about anyway?
GAVIN COOPER, KYLE FELDT: The skipper and the finisher#NRLEelsCowboys #NRLFinals #NQTougherTogether pic.twitter.com/7qNplJzLwd

— NQ Cowboys (@nthqldcowboys) September 17, 2017
What a time to score your first #NRL Try!#NRLEelsCowboys #NRLFinals pic.twitter.com/4XEYwGSPvI

— NRL (@NRL) September 17, 2017
Our singlets are blue and they go best with King Gee's and a pair of steel caps.
For those in the eastern suburbs: steel caps are boots worn on what we call worksites and protect the feet from injury.
You're welcome.
Just like the Queenslanders up north we don't mind a motorbike. Some of us like to even ride them in the bush. You can find plenty of that out Penrith and Campbelltown.
While you're enjoying a dinner party at Coogee, listening to some crisp Enya, we're in the garage pumping out AC/DC.
We own our Commodore.
You're renting a Merc.
We cook steak.
You eat tofu.
We drink our wine out of a cask.
You smell it and swish it around in a glass.
Some of us like to roll our smokes (mostly tobacco). Find us a White Ox smoker in Bondi and we'll show you an imposter!
To us, Bathurst is a race – not a town and we don't use the self-service machine on Melbourne Cup day. We fill out the ticket.
Actually, come to think of it, Westies have more in common with those bloody Queenslanders than first thought.
When the Roosters run out on Saturday night they'll have their loyal band of fans behind them.
And then there will be the rest of Sydney.
United with our sworn enemies in the north. The unholiest of alliances. Draped in our flannelette, kicking back with our slab, cheering the Cowboys on all the way to the 2017 grand final.
@woodward_curtis