Matt Scott has earned the right to play in the Grand Final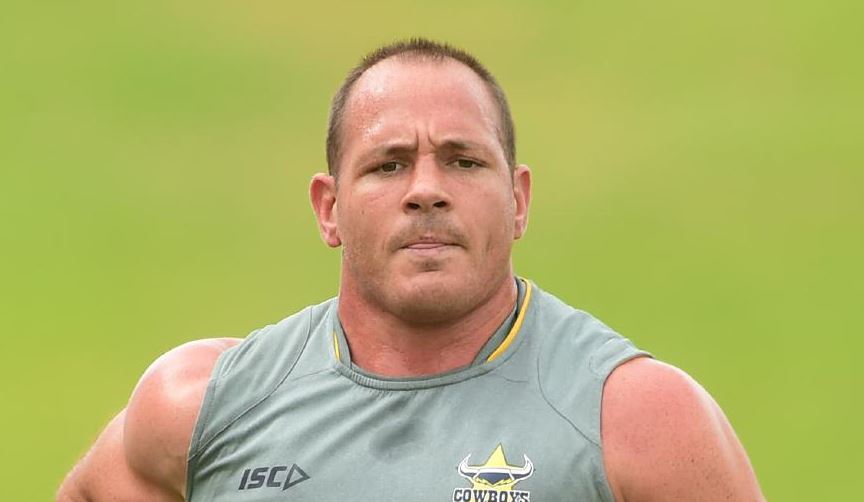 BY CURTIS WOODWARD
@woodward_curtis
It is September 2005 and the North Queensland Cowboys have just been thumped 50-6 by Wests Tigers in week one of the finals. They return to Townsville with their tail between their legs. With them is a talented rookie happy just to be along for the ride – future leader Matt Scott.
Most would think only immediate family would have been at the airport to greet them. They were flogged after all. Scott was there but did not play against the Wests Tigers – he'd played the last of his three first grade games that season. What Scott did see that day on return was something he has seen so many times since. Win, lose or draw, the Cowboys loyal army of fans waiting for their beloved heroes at Townsville airport.
"That shocked me immensely," former captain Travis Norton said.
"The boys weren't expecting anyone to turn up at all. Everyone was very embarrassed getting off the plane but to have those supporters there – that was very encouraging."
Is there a more loyal fan base in the NRL?
That love wouldn't be lost on the veteran Scott who is desperate to play on Sunday after injuring his knee way back in round two.
Coach Paul Green though said he was sticking with the same 17 barring injury.
"I just want to clear the air. There has been a lot of speculation around Matt Scott," Green said.
"The 17 guys that got us to grand final will be the 17 that play this weekend."
Others echoed Green's sentiment.
"It's easy for us being outsiders but if I was the coach I would nip it in the bud as quick as I can," Lockyer said on The Sunday Footy Show.
"My view is that the 17 guys that have played there last night, they've done a wonderful effort to get to the grand final, and as much as Matt Scott has done for the club, for the Cowboys, I just think it would be the wrong decision to allow Matt to play in the grand final.
"Matt Scott at his best, it's an easy decision, but he hasn't played for six, seven months. He might be able to come on for 10 or 15 minutes and do a job but again I think it comes back to the chemistry amongst the current team.
"I think to break that up is very risky."
Matt Scott won't play in Sunday's @NRL Grand Final against @storm @7NewsSydney @nthqldcowboys #NRLGF pic.twitter.com/gYzWyYDi2D

— Liam Cox (@LiamCox_TV) September 25, 2017
Paul Green says Cowboys will be 1-17 during the Grand Final. Matt Scott is simply a back up forward option. #NRLGF pic.twitter.com/t1SYffJcAD

— Veronica Eggleton (@veggleton) September 25, 2017
Matt Scott won't play GF unless a player is injured at training @9NewsSyd

— Danny Weidler (@Danny_Weidler) September 25, 2017
Lockyer's opinion must be respected but to suggest Scott would hurt team chemistry is hard to swallow because Scott is part of the fabric of the club.
Would Scott seriously risk re-injuring himself and hurt the team if he didn't think he could play?
This is Matt Scott we're talking about.
With all due respect to Corey Jensen, the man most expected would make way, but a returning Scott can do Jensen's work and then some.
The boost his inclusion also gives his teammates can't be forgotten either.
Scott can also take heart from the heroics of fellow Queensland legend Shane Webcke who famously played the 2000 grand final with a broken arm.
In round 24, Webcke smashed his arm attempting a tackle on St George Illawarra's Luke Bailey. The inspirational bookend returned in the preliminary final helping defeat Parramatta before backing up for the decider against the Sydney Roosters.
To state the bleeding obvious – an arm is not a knee. A heart, however, is still a heart and they don't make them bigger than those inside Scott and Webcke.
Scott can do this.
The blood he has spilt for the Cowboys gives him the right to be considered for selection just like everyone else. Johnathan Thurston might be the General but Scott is the warrior in the trenches on the frontline.
What Scott has done for the Cowboys is as important as anything Thurston has achieved.
More importantly he owes it to all those fans that have ever given up their own time to welcome him and the boys home – win, lose or draw.
@woodward_curtis