Newcastle's fighting spirit: Why these Knights can beat the Melbourne juggernaut this weekend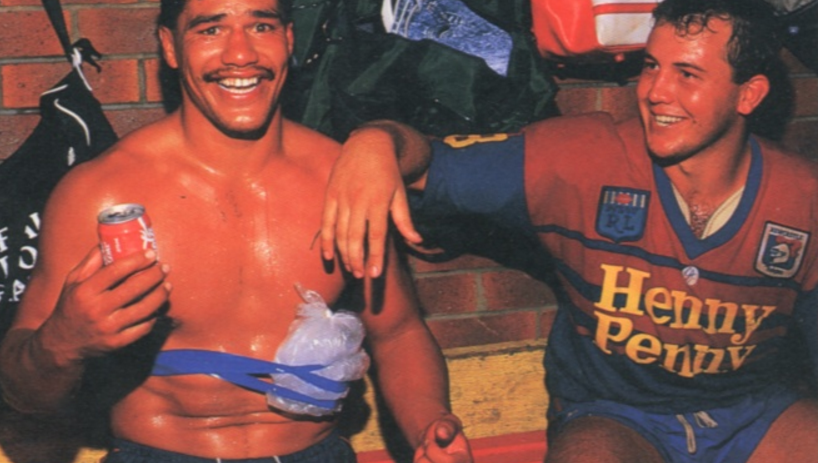 BY CURTIS WOODWARD
We all love a great underdog story – a rank outsider, a long shot battling a mighty and seemingly unbeatable opponent. Rocky Balboa versus Ivan Drago, David against Goliath and now the Newcastle Knights vs. the Melbourne Storm.
On paper, this Saturday's match at McDonald Jones Stadium should already be over. Sure it's the 16th place Knights up against the runaway Minor Premiers. Yes the Storm boast eight players this weekend that have represented their country and three blokes called Smith, Slater and Cronk and granted they have a points differential of 181 to Newcastle's -162.
Stop the fight!
Why don't you just give Melbourne the two points?
But there's a problem.
Rugby league isn't won and lost on a piece of paper. Miracles live and thrive in our great sport. Boilover wins and shock upsets are the cold side of the pillow on a summer's night. They are the romantic equaliser to the modern game's addiction to statistics, sports science and perfection.
That's why we love rugby league.
You never know what's around the corner no matter how hard coaches try and control the chaos.
The Knights are a fighting chance on Saturday and that's all Newcastle need.
No team fights harder than Nathan Brown's men.
If competition points were tallied based on guts and determination, the Knights would be in the top 4. Rival teams could only dream of having the grit of these battlers.
And don't forget – these here Novocastrians have won three on the trot.
Can they beat the Storm?
Why not!
It's a credit to Newcastle that we're even talking about an upset against the high-flying Storm so deep in the season when they should, for all intents and purposes, be more worried about their end-of-year trip.
Beware the team with nothing to loss.
Be petrified of the team given no chance.
It's not over until it's over! The @storm go in and take the lead back.#NRLStormRoosters 16-13 with 2 minutes remaining.#NRL pic.twitter.com/ezGVpUN4sl

— NRL (@NRL) August 12, 2017
"Melbourne is one of the best teams in the comp," winger Ken Sio told media on Wednesday.
"We trained well the last two days and everyone is pretty much bouncing around the camp.
"We are not worried about the Storm – we are worried about us and our performance this week and improving each week.
"That is what we've done the last three weeks, just worrying about us and how we perform."
Melbourne is probably on their way to another grand final appearance.
This is Newcastle's grand final.
Three wins on the trot? Great.
Beat the Storm? Disco!
"Our fans have always been our strength and we always want to repay them with the wins," Sio added.
"This week we get the chance to do it again and repay their faith."
The team song, Knights fans! #NRLEelsKnights #goKnights pic.twitter.com/E4ElCO5kJw

— Newcastle Knights (@NRLKnights) August 11, 2017
Whack! @NRLKnights preparing for a physical battle versus @storm @newcastleherald pic.twitter.com/wUvQN5emhQ

— James Gardiner (@JamesGardiner42) August 15, 2017
Saturday will be almost 29 years to the day that the Knights ran out for their final home game of their inaugural season in 1988. On that afternoon, they hammered North Sydney 38-6 for only their fifth win of the season.
While the Knights still have three games to play including another home fixture against Cronulla in Round 26 – a win on the weekend will make it six victories for 2017.
"We've been looking at Newcastle for a few weeks now and they've been playing pretty well," Storm International Kenny Bromwich said.
"They are on a three game winning streak and we can't get complacent with a team like them because in the last few times we've played them down [sic] there we've had some tough games.
"They are a young side and are starting to gel well. Their attitude has been awesome, the way they've turned up and played these last few weeks."
This could be one of Newcastle's greatest ever wins.
And like any great victory inside their home cauldron, it's built on the spirit of old legends.
For every Josh King charge, Paul Harragon returns for a moment, the scheming Danny Levi brings back his namesake Buderus, Brock Lamb throws a bullet across field and for a second – Matthew Johns is back in the number 6 jersey. Sione Mata'utia and Sam Stewart sit Cameron Smith on his backside with a textbook tackle while Mitch Barnett and Marc Glanville roll over the advantage line.
The worst thing Melbourne could do on Saturday is give the Knights a sniff.
Then they'll have to beat more than just the thirteen players opposite them.