Back to the future: Why 'The Next Three' will ensure Storm premierships for years to come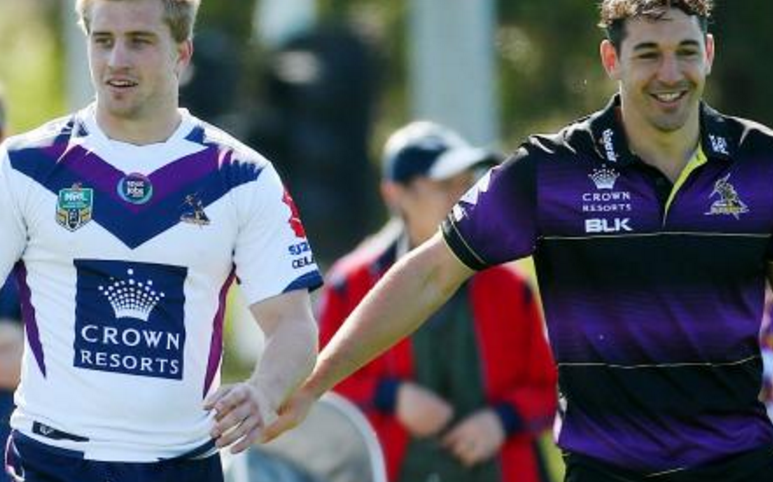 BY CURTIS WOODWARD
The Melbourne Storm's Big Three – Cameron Smith, Billy Slater and Cooper Cronk – are all once in a lifetime players. It just so happens they all play in the same era, for the same team.
Individuals don't always make the best team players but these men have proven that you can be the absolute best at what you do and also be a teammate that makes those around you better athletes.
That's what they do.
All three of them are unequivocal champions and will leave a legacy that the Storm can build on for as long as they want.
Cronk's time at AAMI Park is coming to an end as he moves to Sydney in 2018 to be closer to his fiancé. Who knows how long Smith and Slater will go on for?
Sooner rather than later though, the Storm will forever be without their three greatest players.
That usually means a void impossible to fill.
Sometimes that team falls off the proverbial cliff and never recovers such is the presence of the outgoing legends.
Not the Storm.
The Storm will continue to dominate the NRL long after Smith, Slater and Cronk are gone.
Let that marinate for a minute.
How scary is that?
We're actually watching it before our eyes. The evolution continues.
Cameron Munster is already a star in his own right. The Storm didn't miss a beat with the Rockhampton native playing a massive role in 2016 as Melbourne rumbled into the Grand Final. He then dominated New South Wales in State of Origin III this season in his debut.
Munster has that x-factor. Just like Slater, he makes it look easy.
In Cronk's absence last weekend, Brodie Croft bamboozled the plucky Newcastle Knights. The little halfback – as meticulous as Cronk in everything that he does – scored three tries, ran for 130 metres and had two try assists.
"They're both very anal about their preparation," Coach Craig Bellamy said of Cronk and Croft after the Storm's win over the Knights.
"Playing style they're similar, to be honest. They lookalike, that's probably the big one. But there are differences as well and Crofty won't be a Cooper clone next year but his own man.
YOU voted @storm halfback Brodie Croft as the #NRL360 Round 24 Player of the Round, following his massive performance against @NRLKnights. pic.twitter.com/e9qjWxXUzV

— FOX SPORTS NRL (@FOXNRL) August 22, 2017
"We obviously know he's a good player and good kid."
Then there's Smith – Brandon that is.
To argue that this Junior Kiwi representative can come close to Cameron's achievements would be wildly unfair. The current Australian and Queensland captain stands above all other players in the game. His influence is unparalleled.
Brandon Smith can only be Brandon Smith but that will be enough.
But what these three youngsters are learning on a daily basis can't be quantified.
To be able to learn and train with three of the very best players in the history of the game is almost unfair to everyone else.
One the stars in last night's memorable win was @QldMaroons debutant Cameron Munster. @WallyLewis9 #Origin #9News pic.twitter.com/mbNybNsVFI

— Nine News Queensland (@9NewsQueensland) July 13, 2017
Smith, Slater and Cronk will soon become Smith, Munster and Croft.
They won't reach the mammoth heights of their predecessors. They will however carve out their own piece of history and continue the Melbourne Storm legacy.
If they can be half the players Smith, Cronk and Slater are than you can guarantee the Storm will continue to win premierships.
The legacy lives.
Long live the Storm.