New South Wales should have never picked a Ron Massey Cup prop and David Fifita in the front-row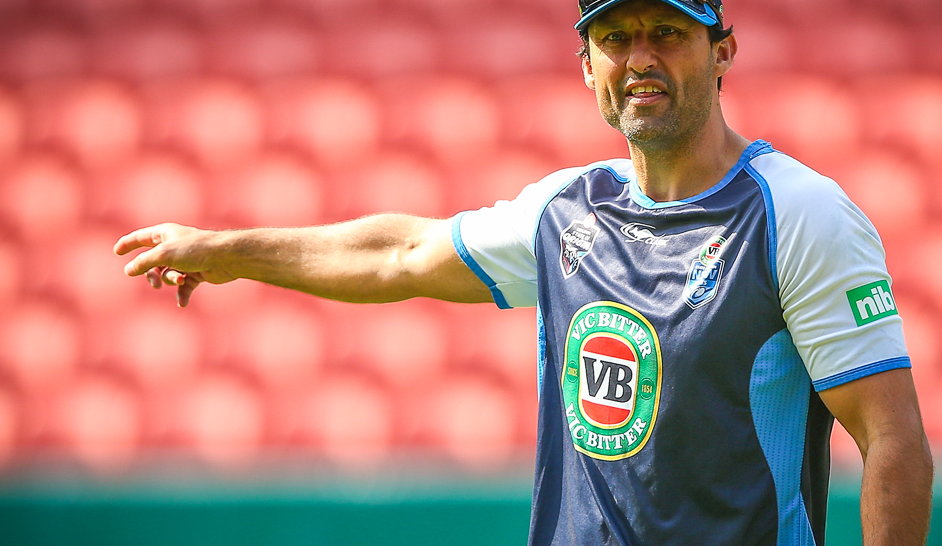 BY CURTIS WOODWARD
@woodward_curtis
The bleeding for New South Wales began long before Game III kicked off at Suncorp Stadium on Wednesday night.
Game I six weeks ago was meant to be the night NSW finally turned the tide and stopped one of rugby league's greatest ever dynasties. The Blues came out all guns blazing, slayed the bad guys and rode off into the sunset. An entire state rejoiced. Most thought Queensland were on the decline.
Then reality returned and sunk its razor-sharp teeth into the Blues.
On home soil at the Olympic stadium, NSW spluttered their way through a horrific twenty-minute period that gifted QLD a lifeline.
Have you ever seen those old movies where you think the cowboy has won the battle but then reaches into his shirt and pulls out a handful of blood before sliding from his horse?
Despite the warning signs – everyone kept saying it was NSW's time like it was the Blues' God-given right to win back the title. Somehow, we all thought the Maroons were just going to turn over and the Blues would run rampant in the deciding game.
Forget the fact that QLD were sending off the injured Johnathan Thurston and still boasted Cameron Smith, Cooper Cronk, Billy Slater and other Australian representatives.
You can only tell a team so many times before they start believing their own hype. Phil Gould, Paul Gallen, Andrew Johns – they all pumped up the ego.
Did NSW really think they were going to win because it was "their time"?
Nothing is free in Origin.
You win a State of Origin match on commitment, guts and heart.
Talk about delusions of grandeur.
When Andrew Fifita ran onto Suncorp Stadium on Wednesday night grinning from ear-to-ear like a cocky punk – the trickle became a gaping wound.
The Blues were sitting ducks.
They came out in Game I with their Colt Revolvers and put on a show, blew the smoke from the barrels of their guns – looked down the camera lens and gave us a big cheesy wink, "Nothing to see here folks – time to go home. We've won."
Problem was, there were two more gun fights and NSW used all their bullets by the 60th minute of Game II.
But to be fair to Fifita he wasn't alone.
Try to forget for a moment that the big Cronulla prop only ran for 63 metres. The telling factor was the difference in his on-field presence from Game I to Game III. Are we sure Andrew didn't have the night off and they dragged brother David back from England?
Wests Tigers fans are also jumping for joy that Fifita's front-row partner Aaron Woods is leaving for Canterbury-Bankstown in 2018.
An emotional Andrew Johns has his say on the Blues and answers the question on whether he would take up the coaching job. #Origin #9WWOS pic.twitter.com/anYMUhN5fa

— Wide World of Sports (@wwos) July 12, 2017
Woods looked like a Ron Massey Cup prop dragged out of the pub and flung a sky blue jersey on Wednesday. For a player that has represented his country and state since 2013 – Woods looked out of his depth. He was two yards slower than any other player on the field with ball in-hand and was brushed off several times in defence.
Fifita and Woods made Napa and Wallace look like Shane Webcke and Petero Civoneciva.
But even still – NSW were a chance at 12-6 thanks to the hard slog of replacement props David Klemmer and Jake Trbojevic. The pair combined for a total of 303 metres and dragged the Blues back into the contest.
And here is where Mitchell Pearce and James Maloney come into it.
Consider the magnitude of Klemmer and Trbojevic's work and what they did just to get NSW back to 12-6 when QLD could have led by 30 or 36 such was the avalanche.
Instead of levelling it up or even taking an unlikely lead – the Blues lost their way. It wasn't Fifita and Woods this time, it was Pearce and Maloney.
On one side of the field, Cronk and Munster were playing direct, fast and digging into the defensive line asking questions of the Blues time and time again. On the other, Pearce and Maloney continuously shovelled the ball onto someone else.
While Cronk and Munster were taking the ball on the last and engaging the Blues before kicking, Pearce and Maloney were kicking immediately – sometimes ten metres away from the Maroons.
Remember that Klemmer and Trbojevic were winning the middle.
The difference was only one set of halves was playing footy.
In the 60th minute, a Maroons player took the ball forward and lost his boot. Instead of retreating into the line and getting there for his mates, Maloney preferred to pick up the boot and toss it over the sideline. He would have still been chuckling to himself as he turned around to see his opposite, debutant Munster, cut the Blues to pieces on a forty-metre run before linking with Valentine Holmes to extend QLD's lead.
Valentine's night!

He can't stop scoring.#Origin#NRL pic.twitter.com/4qFowf8dQP

— NRL (@NRL) July 12, 2017
A few minutes later a desperate QLD kept the footy alive before Wallace (or was it Webcke) picked up a loose pass and dived over as Woods and Fifita stood there with their hands on their hips.
The Maroons are a great rugby league team.
Our only expectation as NSW fans is that we expect our players to have a go.
Sadly, that's still not the case.
@woodward_curtis