Hasler's hopeless Bulldogs need a total facelift after another diabolical performance in loss to Brisbane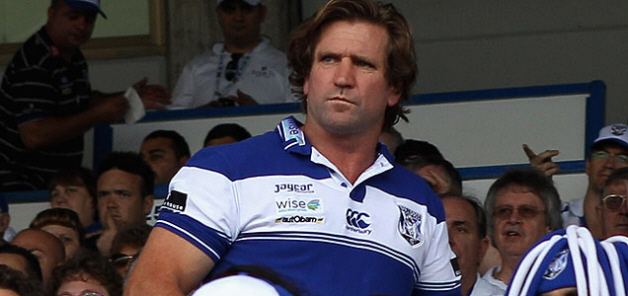 BY CURTIS WOODWARD
@woodward_curtis
Canterbury hooker Michael Lichaa's career at the Bulldogs is at a crossroads after only being used sparingly in the club's flogging at the hands of the Brisbane Broncos on Thursday.
Lichaa started from the bench with Moses Mbye preferred in the middle. Lichaa only got eight minutes at Suncorp Stadium – an improvement on the two minutes he was on the paddock against Newcastle at Belmore a week earlier.
Coach Des Hasler said he didn't know what his spine would look like in the coming weeks.
Lichaa is without a contract for 2018 and it's hard to see how the Bulldogs can offer him a new deal on the form he has shown since being head hunted to replace former captain Michael Ennis who went on to win a premiership with Cronulla.
"We'll have a look at it," Hasler said after the 42-12 demolition.
"We just thought we'd mix it up a little bit. We started that way two weeks ago against Newcastle.
"There were a couple of soft tries there but I thought our boys tried pretty hard for tonight. Their execution again let us down."
The Bulldogs led 6-0 after an early try to Macarthur Saints junior Marcelo Montoya and looked the goods for most of the first-half.
When halves run the ball 🙌 #NRLBroncosBulldogs #NRL pic.twitter.com/60wM7Yy5Rp

— NRL (@NRL) July 20, 2017
FULL-TIME! The @Brisbanebroncos prove far too strong with a 42-12 win over the Bulldogs. #NRLBroncosBulldogs #9WWOS pic.twitter.com/U8Yk0AqdA8

— Wide World of Sports (@wwos) July 20, 2017
Forward Adam Elliott's error inside the Broncos half from a line drop out burnt the visitors who had been building pressure. Elliott was ankle tapped sending him crashing into the turf losing the ball in the process. It got far worse after that.
Canterbury leaked two tries in a four minute period before the break. It was game over.
"We're pretty disappointed with the outcome and the performance tonight," Hasler added.
"I thought we were really good early to be honest. I thought we got away to a good start but again we were probably our own worst enemies.
"We just had the momentum our way and we had a couple of crucial errors which were momentum changers for us."
The Bulldogs are in big trouble.
They won't finish with the wooden spoon but their fans have had enough of the sputtering attack and flimsy defence.
It might as well be a spoon to them.
This club needs a clean out but more importantly, they need a tactical facelift.
Unfortunately, they won't get it because Hasler won't change his ways.
Let's see if he lasts the season.
@woodward_curtis