Political correctness gone mad as little girl booted from footy field for running the kicking tee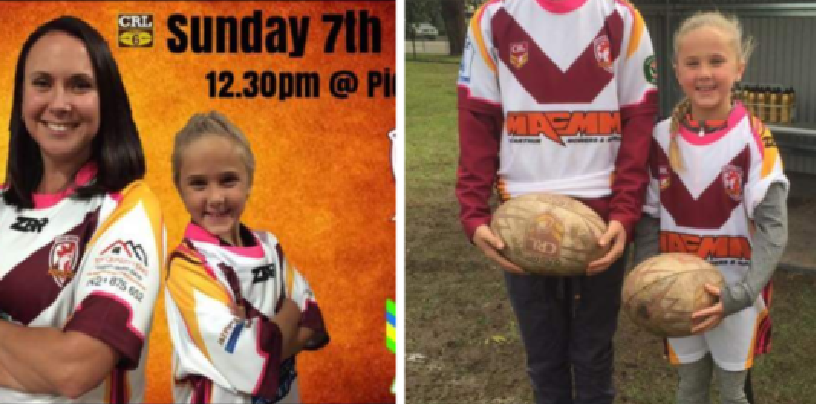 BY CURTIS WOODWARD
Political correctness has sunk its dirty claws into bush footy after a little girl named Chloe was brought to tears in front of friends and family at a recent Group 6 Women's League Tag match played at Campbelltown.
The eight-year-old lives and breathes rugby league and gets to play a small role by helping with the kicking tee in her mother's Thirlmere Roosters Women's team.
Midway through the game between Campbelltown City Kangaroos and Thirlmere on Saturday, Group 6 Executive Officer Steve Hazleton stopped proceedings and kicked Chloe off the field because she was not an "accredited person".
Chloe's dad Nathan said it was "officialdom gone mad".
"This little girl has followed footy since the day she was born.. dragged to watch me and her 3 brothers play every weekend," Nathan said on Facebook.
"Never whinged once, now she gets to watch mum play league tag which she absolutely loves. She goes to training every night and gets up Sunday, gets in her outfit and is the first one ready. Her job every week was to run the tee out for the girls. That is until last week when the game was stopped and she was removed from the field by a senior official because she was not an accredited person.
"…If the desired result of this was to embarrass and make an 8 year old little girl cry, mission accomplished…. Officialdom gone mad."
The81stMinute contacted Hazleton for comment.
"Please refer to the CRL Operations Manual schedule 2 1.2. Nathan was explained this on the day," Hazleton said.
Under CRL rules, "sand-kicking tee persons must be a minimum of ten years of age".
Meanwhile, Group 6 are also copping plenty of flack after Oakdale player Manu Asoava was suspended for the remainder of the season for a sickening incident that left Camden Rams captain Chris Browne requiring surgery for a compound fracture and ankle dislocation. Footage shows Browne chasing after a Rams kick only for Asoava to drop and fall into Browne's legs causing untold damage.
Some are calling for a life ban despite Group 6's decision to only give Asoava a 15 game suspension.
News of the incident has reached 2GB's Ray Hadley who said: "In all the years I've been calling, I've never seen a worse act in rugby league".