Lockyer and Hodges get behind old mate after Inglis mental health shock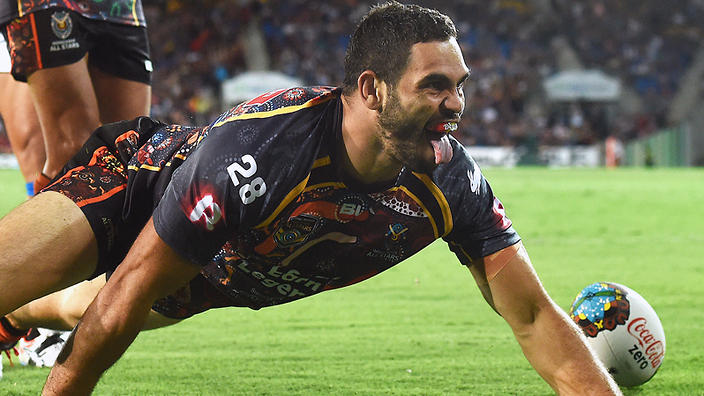 BY RICHARD HOGAN & KANE AUSTIN
Fellow Queensland legends Darren Lockyer and Justin Hodges have come out in support of Greg Inglis.
The South Sydney Rabbitohs leader has checked himself into a rehab facility after struggling with his season-ending injury which he suffered in the opening round of the season against Wests Tigers. It's also understood his wife has returned to Brisbane to be closer to her family.
"You can lose routine, that feeling of not being part of the team, even though you're there training you don't feel a part of it," Lockyer said at Channel Nine's State of Origin launch.
"That can play havoc a bit with your mind.
"As footballers when we play, we play every weekend, if we win a game it's a good feeling, that's what we play for."
Lockyer said Inglis was in good spirits when they last met in Canberra.
"It's a surprise, I only saw him two weeks ago at the Kangaroos down in Canberra," Lockyer said.
"He seemed to be happy and life was good.
"It is a surprise but I guess when this stuff happens, first and foremost it is about getting Greg right because he's a father and he's a husband, and he's obviously got a long term injury that he's going through at the moment.
The Rabbitohs have confirmed injured superstar Greg Inglis has entered a rehabilitation facility. @rohanwelsh #NRL #7News pic.twitter.com/9p7OszZ2qQ

— 7 News Brisbane (@7NewsBrisbane) May 17, 2017
"Again, we don't know the details so it's hard to speculate but he's there and we just wish him the best and hope for a speedy recovery."
Meanwhile Justin Hodges has told The Courier Mail that his close friend "feels lost".
"It was always going to come out because he's a high-profile person," Hodges said.
"I won't go into exact details but it's a bit of everything. He feels lost.
"It's a bit of footy, it's his injury and some personal stuff."
Hodges wanted the rugby league community to get around Inglis as he battles depression.
"Greg never had to worry about that type of stuff before, a lot of things can impact on players and sometimes it takes one big injury for things to come crashing down," Hodges said.
"The important thing is that the game rallies around him and supports him 100 per cent."
Moley's thoughts are with Greg Inglis… clearly going through some tough times.
Stay strong mate.

— The Mole (@9_Moley) May 17, 2017
Admiration for Greg Inglis – great to see him seek help & take action. Reinforces that our most courageous can be affected by #mentalhealth

— Greg Hire (@greg4hire) May 17, 2017
On behalf of the @RLPlayers we wish @greg_inglis well in dealing with his mental health issues. Players are #PeopleFirst & footballers 2nd.

— Ian Prendergast (@IanPrendergast) May 17, 2017