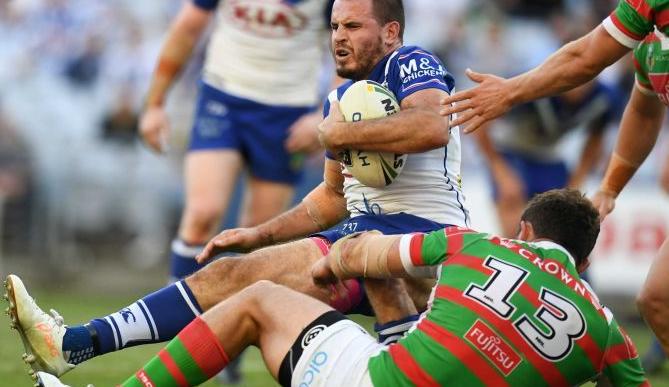 Subscription Kings: NRL hammer AFL in ratings over Easter Weekend
April 18, 2017
0
By
The81stMinute
BY STAFF WRITERS
Patrick Delany – eat your heart out. The Easter weekend has proven again why rugby league is the irresistible force of the subscription television landscape, defeating the AFL in almost every opposed timeslot across the respective rounds.
With an additional two clubs, the AFL ran unopposed on Thursday night but all but one conflicting game was won by the NRL.
Easter Monday saw both codes fixture local rivals with Parramatta and Wests Tigers out rating AFL giants Hawthorn and Geelong across Australia.
Only one NRL match was played on Sunday at 4pm up against two separate AFL clashes. Local AFL rivals Collingwood and St Kilda managed just 151,000 while Brisbane and Richmond could only muster 129,000 against Penrith and Cronulla's 189,000.
On Saturday, two AFL games went up against St George Illawarra and the New Zealand Warriors – neither out rated another Dragons win.
Saturday's early games saw Manly versus Melbourne Storm (3pm) pull in 199,000 viewers up against Melbourne versus Fremantle's (1.45pm) 213,000 in the AFL's only win of the weekend.
Canberra and New Zealand in the NRL rated strongly on Saturday afternoon with 246,000 viewers against 240,000 for GWS and Port Adelaide. In another win for the NRL, these two games were both played in Canberra with the Raiders pulling in a bigger live audience as well.
The AFL only had the one game on Friday against three for the NRL with 255,000 tuning in to watch North Melbourne versus the Western Bulldogs with two of the three NRL games pulling in more viewers.
West Coast hosted Sydney on Thursday in the AFL – running unopposed. Alarmingly, only 34,000 of the 357,000 viewers tuned in from Sydney to watch the Swans.

Easter Monday
NRL 281k – Parramatta vs Wests Tigers 4pm
AFL 276k – Hawthorn vs Geelong 3.20pm
Sunday
NRL 189k – Penrith vs Cronulla 4pm
AFL 151k – Collingwood vs St Kilda 3.20pm
AFL 129k – Brisbane vs Richmond 4.40pm
Saturday
NRL 250k – St George Illawarra vs North Queensland 7.30pm
NRL 246k – Canberra vs New Zealand 5.30pm
NRL 199k – Manly-Warringah vs Melbourne 3pm
AFL 240k – GWS vs Port Adelaide 4.35pm
AFL 213k – Melbourne vs Fremantle 1.45pm
AFL 169k – Adelaide vs Essendon 7.10pm (local time)
AFL 128k – Carlton vs Gold Coast 7.25pm
Friday
NRL 241k – Canterbury vs South Sydney 4pm
NRL 264k – Newcastle vs Sydney 6pm
NRL 261k – Brisbane vs Gold Coast 7.50pm
AFL 255k – North Melbourne vs Western Bulldogs 4.20pm
Thursday
No NRL match played
AFL 357k – West Coast vs Sydney – Ran unopposed
Opposed timeslots – Code wins
Easter Monday: NRL
Sunday: NRL
Saturday night: NRL
Saturday afternoon: AFL
Friday: NRL
Final Score:
NRL 4
AFL 1