Regret is a hell of a drug – Just ask Aaron Woods and James Tedesco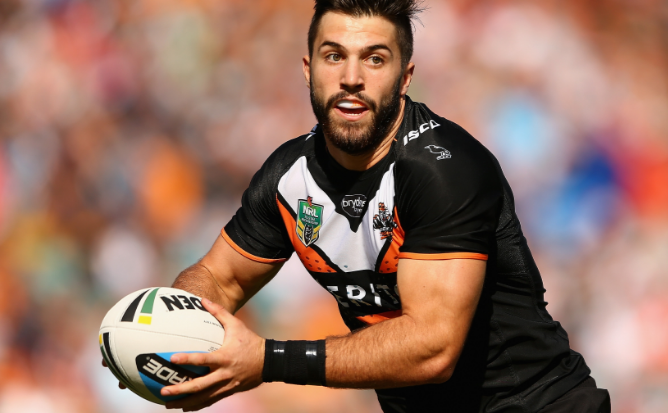 BY CURTIS WOODWARD
Cocaine is a hell of a drug – just ask Rick James. But there is a drug far more potent and can live with you forever if you let it. That drug is regret.
It seems a fait accompli that Wests Tigers captain Aaron Woods and star New South Wales fullback James Tedesco are leaving the club.
Just when this sinking ship needs them most, they're packing their bags. But you may argue that a sinking ship is a lost cause and they're better off playing in a far more stable team. But this sinking ship could have been saved if they'd just stayed. Woods and Tedesco could have risen from the abyss, taken the club in their mighty hands, thrown it on their shoulders and given life back to the place that made them famous.
Instead, they're just leaving.
Regret is just a whisper away. Waiting in the shadows for its chance to wrap its cold, wet blanket around you.
So let's ask Woods and Tedesco a question.
When you're 60 and looking back at your career, will you regret leaving?
Will you regret never being known as a legend of the club you love?
Woods will soon have to change his Twitter profile as he's about as "2040" as an Eskimo in Dubai.
Those kids in Camden and Campbelltown will never look at Tedesco the same way either. They love him because he plays for the club they support. He's a local. He's meant to play for them. Not the Roosters. By leaving Wests Tigers he just becomes another NRL player with too much money.
By leaving now, they will never be legends of Wests Tigers.
So if Jason Taylor really was the problem at @WestsTigers,how come Tedesco,Woods & Moses have all left anyway? Who takes blame now? @FOXNRL

— Andrew Voss (@AndrewVossy) April 20, 2017
https://twitter.com/JimWilsonTV/status/855004053956304896
With Aaron Woods on the way and Kieren Foran and James Tedesco also possibilities, the Bulldogs are facing a major clean-out. #9News pic.twitter.com/dNoXKfDKtN

— Nine News Sydney (@9NewsSyd) April 20, 2017
The fact that Tedesco once signed with Canberra only to backflip after speaking to Robbie Farah possibly says more about Tedesco's manager than Tedesco himself. If he didn't want to leave then, why does he want to leave now?
Michael Potter apparently didn't connect with the younger players so he got the punt. They didn't want to play for Jason Taylor so he got sacked too.
Apparently Farah was stealing too much of the football from Luke Brooks, Mitch Moses and Tedesco so he packed his bags as well.
They want to play in a winning side but are killing their team's chances by dragging this crap out for so long.
Woods and Tedesco could singlehandedly turn this all around but they'd rather walk instead.
But who are we to question the mighty current player?
It's their lives after all. They've got mouths to feed and should take all the money they can while they can get it.
What would the battler out there in suburbia know about struggling to make ends meet, right?
Why should we knock them?
Perhaps it's because we're the fans, the ones at the ground every weekend, watching on television.
We're the ones that are left behind holding jerseys with 'Tedesco' or 'Woods' on the back.
How dare they?
Off course we have a right to feel angry, betrayed.
And when all the money is gone and the bright lights have long forgotten them, Tedesco and Woods will be old men with nothing but memories of what they once had.
Maybe then they'll regret leaving.
@woodward_curtis