Lest We Forget: Five rugby league men that never came home from war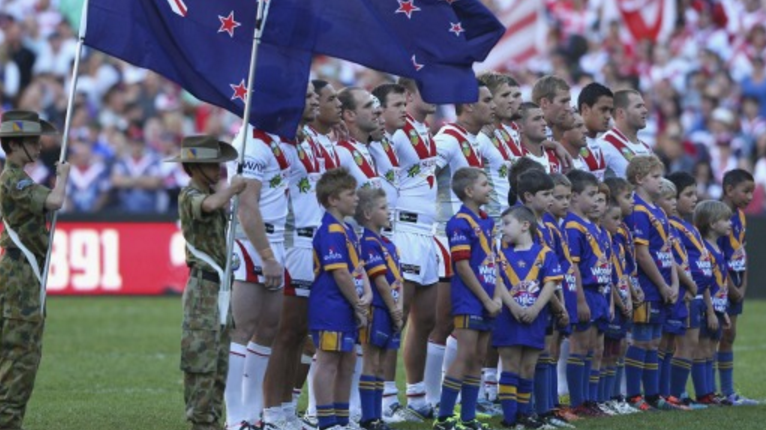 BY CURTIS WOODWARD
Imagine a world where your favourite NRL player was scoring dazzling tries one week and enlisting to go to war the next.
Try to picture the legendary Johnathan Thurston, his infectious smile, not on a football field having the time of his life, but instead storming up cliff faces on the other side of the world, praying to god he doesn't get hit by machine gun fire from above. His smile long gone. What if instead of running out for Cronulla this weekend, Paul Gallen had been captured in Papua New Guinea by the Japanese and killed with a sword. Or Cameron Smith's family receiving the news back in Australia that he had been declared missing in France only for two fellow soldiers to find his dead body and bury him.
It's ghastly.
Horrifying.
Almost other worldly from what we're so used to today.
But this was the gruesome reality of our past – of rugby league's past.
This Anzac Day we should remember the following men. Heroes that not only enlisted for war but never came home.
Bob Tidyman – World War I – Eastern Suburbs 1913-1915
Two games for Australia 1914
One game for New South Wales 1914
Originally born in Queensland, Tidyman was a winger on the rise after debuting for Easts in 1913, playing alongside iconic figures such as Dally Messenger, Sandy Pearce and Arthur Halloway. His whirlwind continued when he was selected in two matches for Australia in 1914. The flanker even appeared in the 1916 Australian movie, In the Last Stride. It seemed like he had the world at his feet. But just like that – he was off to war – following his brothers to Europe after enlisting. He joined the 19th Battalion on France's Western Front in September of 1916. By November, he was listed as missing in action after the Somme Offensive. According to reports, two soldiers later found his body which held an old NSW Leagues Club membership ticket. The soldiers buried the body. His brothers, William and Christopher, survived the war.

Teddy Larkin – World War I – NSWRL Secretary
An Australian representative rugby union player of the early 1900's, Larkin left the police force in 1909 to become the NSWRL's first full-time secretary staying in the job until 1913. In August of 1914, Larkin stood before NSW Parliament as the Member for Willoughby and said: "I cannot engage in the work of recruiting and urge others to enlist unless I do so myself." Within ten days of war being declared, Larkin had enlisted joining C Company of the 1st Battalion, 1st Brigade New South Wales of the First Australian Imperial Force's 1st Division. Larkin and the battalion landed at Anzac Cove on the 25th of April, 1915 – this would also be the day that Larkin would die. Larkin was hit in the chest by machine gun fire and was found dead on the battlefield.

Harold Corbett – World War I – Eastern Suburbs 1911-1912, Annandale 1913
Corbett's brother Claude was a highly respected journalist in Sydney and was the Sports Editor for The Sun for many years. Harold's father William was also a long time journalist. Harold, a halfback, played a handful of first grade games and was a squad member at Easts in premiership years 1911 and 1912. Corbett enlisted in 1915 and gave his occupation as a journalist. He was a Sergeant in the 19th Battalion of the 5th Brigade New South Wales. Corbett saw action first in Gallipoli in 1915 and France in 1916 where he'd be gunned down and killed. He would share his final resting place with fellow Eastern Suburbs players Percy White, Tom Bruce and Ernest Gowenlock on the French battlefields.

Spencer Walklate – World War II – St George 1943
Born in Birchgrove, the birthplace of Australian rugby league, Walklake was a St George prop, a policeman and father of two when he joined the SAS, then known as the Z Special Unit. In early 1945, Walklake was part of a mission off the coast of northern Papua New Guinea. In the dark of night under torrential rain, the men headed for the sand of Muschu Island. But their boats became stuck in the coral and their gear went overboard. The Japanese found some of that gear and began a manhunt. Walklake was captured while several commandos were killed. Japanese Petty Officer Waichi Ogawa later admitted to murdering Walklake with a blow from his sword.

Johnno Stuntz – World War I – Eastern Suburbs 1908-1910, South Sydney 1911, Western Suburbs 1913
One game for Australia 1909
Three games for New South Wales 1911
Flying winger Stuntz was the original try scoring machine. In fact, in the very first round of NSWRL in 1908, Stuntz scored a whopping four tries for Eastern Suburbs against Newtown. Stuntz was a man in demand with Warrington offering him a deal for the English 1909-1910 season. He returned to Australia in 1911 and played for both Souths and Wests. Like many others, the representative winger enlisted in the army and joined the 17th Battalion of the 5th Brigade New South Wales. In May of 1917, the 17th Battalion forced German forces back towards the Hindenburg line in France, only for Stuntz to be peppered by machine gun fire and killed.
Lest we ever forget.
@woodward_curtis