Cooper Cronk announces Storm exit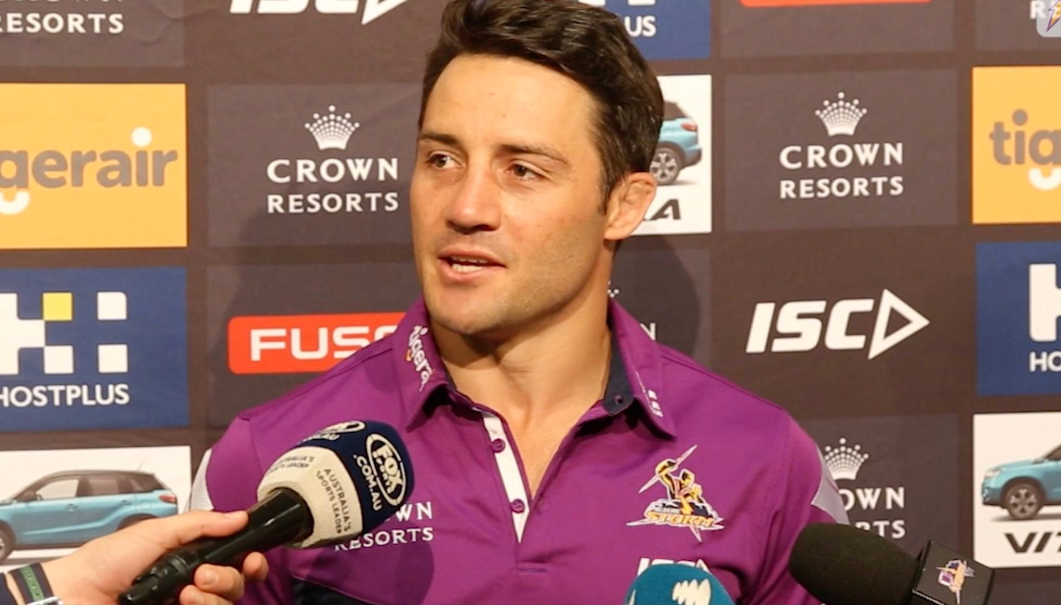 BY CURTIS WOODWARD
It is the end of an era at the Melbourne Storm with legendary halfback Cooper Cronk announcing he will be moving on from the club at season's end.
In news that shocked the rugby league world on Tuesday, Cronk said at a press conference that he was heading to Sydney in 2018 – ending arguably the most dominant combination in club competition history between Cronk, Billy Slater and Cameron Smith.
Cronk has amassed over 300 games in a career that began 15 years ago and claimed premierships, the Dally M, Australian and Queensland jerseys in the process.
"Melbourne Storm has been everything to me since moving down here from Brisbane as a kid back in 2003," Cronk said.
"The Club has helped me grow into the person I am today and I will be forever grateful to Craig, the coaches, my teammates and everyone associated with this great Club for making it such a special place to be a part of. I will always be a Melbourne Storm person."
"To our incredible members and fans, we have shared so many special moments together over the years and I promise you I will be doing everything I can to make 2017 a season we will never forget."
Storm CEO Dave Donaghy thanked the halfback for his services to the club.
"What Cooper has achieved here in Melbourne will be remembered by this Club and this city forever," Donaghy said.
"We would have loved nothing more than to see Cooper remain here with us but we understand there are things in life that are more important than football."
Moses, Reynolds, Brooks and Townsend just got cold shivers. Sign quick boys… there's a new halfback in town! #coopercronk

— Pam Whaley (@PamelaWhaley) April 4, 2017
What an impressive young man Cooper Cronk is. So articulate and honest. Personally I hope he retires and ends up a one team player. Champion

— Darryl Brohman (@therealbigmarn) April 4, 2017
Massive news Cooper Cronk leaving @storm to move to a Sydney club. I'd be giving him a blank cheque – let him write the numbers @7NewsSydney pic.twitter.com/tb8ak5Z7Jh

— Liam Cox (@LiamCox_TV) April 4, 2017
"He has given everything to Melbourne Storm over the last 15 years and we look forward to seeing Cooper continue to do so for the remainder of this season and hopefully finish his career with us on a memorable high."
Attention now to turns to Sydney clubs with any number of potential suitors for the 33-year-old.
Cronk decided to walk from the Storm with a second year option in his favour listed in his contract.
The iconic playmaker humbly thanked Slater, Smith and coach Craig Bellamy who he will be leaving behind in the Victorian capital.
"To Craig, Cameron and Billy. (People) talk about 'the Big Three' but in my eyes they're the real 'Big Three'," he went on.
Hot Property Cooper Cronk:
Unique opportunity to score a prize winning halfback.
Price guide – Offers over $1.1million
Will sell fast!! pic.twitter.com/peLVQcGncC

— Fox Sports Lab (@FoxSportsLab) April 4, 2017
"I'm a distant relative if you talk about those three in terms of the contribution you make to this football club. They're the three most influential people in this club's history.
"As long they're here, whether I'm here or not, there'll be guaranteed success because one, they're very good at what they do. Two, their work ethic. And their desire for success.
"Whether I'm here or not, Storm members will be guaranteed success having those three guys here."
While his personal life and a future media career wait for him in Sydney, Cronk reiterated that he was ready to test the open market.
"In terms of what happens next, I sit here today, completely honest, I actually don't know," he added.
"What I do next year is up in the air but I feel fit enough, I feel mentally strong enough to continue playing."
@woodward_curtis