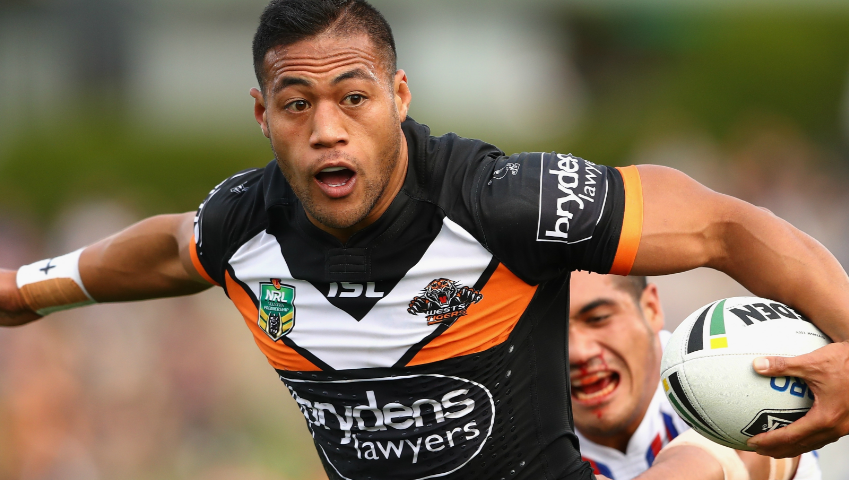 Wests Tigers fans, sponsors, coaches deserve to be angry at Tim Simona but why aren't his teammates and his captain?
March 9, 2017
BY CURTIS WOODWARD
Ryan Tandy and best mate Hassan Saleh walk into The Edinburgh Castle in Sydney on a Friday night and order a case of Corona to go. Behind them a mass of drunken fools begin to notice Tandy leaning over the bar waiting for his beers.
You can imagine the kind of things that were hurled across at him. This was just a few months after that infamous North Queensland versus Canterbury-Bankstown match in Townsville.
Tandy was only at the bar that night for a few short minutes and there were plenty of things said but the big fella never turned around and bit back – he paid for his beers and calmly walked out. Throughout that whole period from kick-off in Townsville to his tragic end, Tandy copped much more than he did at The Edinburgh Castle that night.
That round 24 clash in 2010, that error and that penalty, have been replayed over and over again by fans and Tandy's former teammates alike.
How could any player do that?
Bet against his own side?
But let's put this in perspective. Compared with allegations against current Wests Tigers centre Tim Simona, Tandy's actions seem like child's play.
Tandy bet on the first scoring play of the game – Simona is accused of betting on the opposition and opposition players to score in games that he was playing in.
Fresh allegations came to light on Thursday with the incredible news that Simona may have been auctioning match-worn jerseys for a charity and pocketing the cash.
"If someone's selling a Mitchell Pearce Roosters jersey for instance you might pay $500, but if they say the money is going to a certain charity you care about you might pay up to $5000," Matt Johns said on Triple M.
The point is, the NRL has a seemingly airtight case against him and have proof he betted against his own team. Scamming a charity out of money looks like the icing on the cake.
So how dirty are his teammates?
Tim Simona had three hour meeting at League headquarters, over allegations he placed a number of bets on Rugby League. @danny_weidler #9News pic.twitter.com/lz5gs3gHss

— Nine News Sydney (@9NewsSyd) March 6, 2017
.@NRL has outlawed all betting susceptible to rorting after the scandal involving @timsimona. @LiamCox_TV #7News https://t.co/QvLQvHK0qP

— 7NEWS Sydney (@7NewsSydney) March 1, 2017
How angry are they that after all the blood, sweat and hard work meant nothing because their mate was betting against them and running dead?
The Wests Tigers needed to win their final game of 2016 against Canberra to make the playoffs. Obviously they were flogged that day but would they have already been in the finals if Simona wasn't on the opposition?
Apparently the players aren't pissed off at all.
Former coach Michael Potter should be pissed off, Jason Taylor, their sponsors and most importantly the fans should be pissed off too.
But not the players.
Despite Simona cheating them out of victories, finals appearances, bonuses, contract extensions, upgrades and reward – the players continue to back him.
"To see what he's going through at the moment is pretty tough. Everyone makes mistakes," Mitchell Moses told Triple M on Saturday.
"I definitely don't think he should get life but that's up to the NRL completely."
And here's captain Aaron Woods:
"Look, I know he's been caught up with a couple… the people he's been hanging around probably hasn't helped at the same time," Woods recently said on Fox Sports.
"We've had a couple of discussions away from footy about the things that he can do. At the end of the day, we can only control what happens when he comes into Concord and trains with us."
When were you or your team ever in control of this, Aaron?
The response of the Wests Tigers players seems odd and dumbfounding to outsiders.
Where's the anger?
Where is the hurt?
There is no doubt Simona should be banned from playing in the NRL for life.
But he also needs a strong support network around him when he does transition out of the game.
Ryan Tandy's death should teach us that while the game should always protect itself against cheats, nobody should ever be lost from this world because we didn't help them once the punishment is handed down.
@woodward_curtis