David Heath says Wests Tigers ISP can improve and defends Jason Taylor after sacking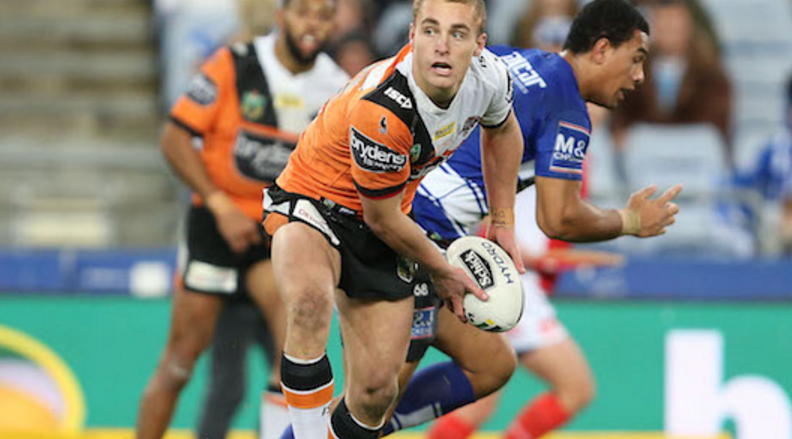 BY CURTIS WOODWARD
Wests Tigers Intrust Super Premiership coach David Heath says his team can turn their season around with a number of positional changes and additions including halfback Jack Littlejohn and boom hooker Jacob Liddle ahead of their round four showdown with the Newtown Jets at Campbelltown Stadium.
Jason Taylor has been sacked as head coach of the NRL side after heavy defeats in consecutive weeks and it hasn't been much easier for the Intrust Super Premiership side.
The joint venture sit dead last on the ladder with a 0-3 record and a points differential of -118.
But Heath and his team are determined to keep chipping away despite being at the mercy of an embattled NRL side. Littlejohn has been sitting on the bench in first grade, Heath's first choice playmaker, with the coach forced in recent weeks to play Jordan Rankin and Justin Hunt out of position. But Heath says that's simply the nature of the beast at this level.
"Last week's game [against the Warriors] was a bit different to the first two," Heath told The81stMinute.
"I thought last week was more about some individual errors. I mean we weren't able to sustain it because of the pressure we put ourselves under. We were a hell of a lot better than last week [round two].
"Jack Littlejohn's named so hopefully he's in and he plays. I mean at the moment, Rankin played halfback a long time ago and essentially Hunt has been playing on the wing. We did find it really tough in round one against some real specialised halves [versus Wyong]. We just haven't had it [specialised half] and it affects the way you attack in a big way."
"That's the nature of being a State Cup coach. You're hired at the behest of the club and that's where we're at at the moment, basically [we] just got to work with what we've got and that's what we're trying to do."
A disappointing loss for our #IntrustSuperPremiership boys today, but a strong performance from @mattballin9 a positive to take away. pic.twitter.com/zjNMXX0AQr

— Wests Tigers (@WestsTigers) March 18, 2017
Live Sat 3pm@Steelesport @NSWRL @IntrustSuperPrm @WestsTigers @newtownrlfc @MountiesRLFC @NthSydneyBears @Illawarra_RLFC @NZWarriors pic.twitter.com/To09Xs1kCN

— Steele Sports (@Steelesport) March 22, 2017
Heath also defended the club's decision to drop young halfback Veiru Mapesone to Ron Massey Cup after a poor round one showing against the Roos but was also excited to see Liddle back in the side.
"He [Mapesone] played round one [NSW Cup] and he needs to play in Ron Massey Cup for a while. It's as simple as that. He was below par round one, as were others. He just needs to go away and play some football at Ron Massey level. He didn't get the chance last week because it was rained out but he'll play this week at that level.
"Jacob brings a different skillset to the team than Matty Ballin. It will be exciting to see him, he had a little bit of an injury issue in the pre-season which is disappointing but hopefully he can come out and add to our attack particularly. He likes a challenge for a young hooker so hopefully he's up for it defensively as well."
Heath has felt Jason Taylor's sacking just as much as others in the club with the pair working closely together through the pre-season and into the 2017 competitions. And while every man and his dog have had their say on Taylor's midweek axing, from Balmain legends to freshly retired Wests Tigers greats, Heath is bitterly disappointed and didn't miss the chance to point out just how much time Taylor spent trying to improve Wests Tigers at all levels.
"Quite disappointed. I had a strong relationship with Jason. He always spent a lot of time looking at and discussing State Cup, always had time for State Cup. He went to as many games as he could be at. Which is not always what I've seen from first grade coaches, so disappointed. That's obviously the nature of rugby league and sporting clubs but yes, very disappointed."
The81stMinute Commentary Team will be at Aubrey Keech Reserve on Saturday from 2pm for Mounties and the North Sydney Bears. You can hear Wests Tigers and Newtown Jets with Alby Talarico and his team as part of a huge triple header – this Saturday on steelesports.com.au
@woodward_curtis