Through the darkness shine bright lights like Nathan Ross and the New Zealand Warriors
BY CURTIS WOODWARD
Batten down the hatches – Tim Simona is about to blow up your news feed. There's nothing like some drama to get those clicks going. Which is why it's probably pointless to talk about good guys Nathan Ross and the New Zealand Warriors.
Simona will get all the attention after The Sydney Morning Herald reported the Wests Tigers centre allegedly bet on opposition players to score against his own team.
Through the darkness comes the shining lights that flicker ever so slightly in a parallel universe where feel-good stories sell more papers than the muck and scum of rugby league's underbelly.
In yesterday's Daily Telegraph, Ross and the Warriors received a few inches of coverage. In that paper's defence, the only negativity in the sport's section yesterday was about the horrid Western Sydney Wanderers soccer fans.
Back to the shining lights.
In two separate incidents at sea off the coasts of Australia and New Zealand, our players reminded us all that there are special human beings out there in the NRL.
Forget the Marvel jersey round and those confusing designs (who the hell is Iron Fist?), these boys deserve a starring role in The Rock's Baywatch movie.
At a surf clinic in Newcastle for homeless youth, Ross came to the rescue of a kid who'd been hit by a wave. Ross leapt into action and dragged the boy from the water.
Ross and some of his Knights teammates were on-hand to help raise awareness for charity, Path 2 Change.
https://twitter.com/steelcity_NRL/status/834496480110997504
Quality human Nathan Ross !! Wish we had more of them !!

— Sean (@sween315) February 22, 2017
"I saw one of the young blokes get pushed onto a wave that might have been a little bit too big for him. He tried his best to stand up but got a little bit too far forward and crashed into the bank," the Knights flyer said.
"When I saw him nosedive I knew it didn't look too good so I kind of waited there for a second and kept eyes on him. I could see he was groggy and the instructor was still a bit too far away so I got to him.
"I grabbed him and said 'mate, are you all right?' and he said 'I'm dizzy, I'm dizzy'. So I told him just to stay relaxed and helped him upright, got his leg rope off so I was able to push the board away and just focus on him."
Across the ditch Warriors players had been on a chartered fishing trip when word came through from the coast guard that a 20-year-old-man had been swept out to sea.
The Warriors players dropped their fishing rods and helped with the search that soon included rescue boats and a helicopter.
Eventually it was Matthew Allwood who spotted the man.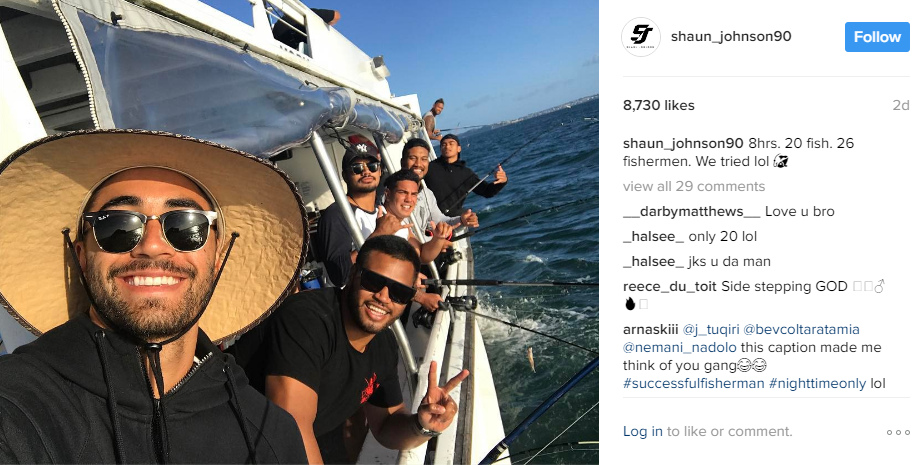 "The rescue mob picked him up out of the water and he was all right, so it was good to see him out of them water and all OK," Allwood said.
"I'd imagine he would have been pretty tired," Allwood said.
"To his credit, he managed to hold himself above water and he must have been in there for a while.
"He was helped up onto the other boat and it was good to see him get out of the water. I'd imagine anyone would be a bit freaked out in that situation.
"It's a great coincidence. If we weren't there, hopefully the chopper would have spotted him and picked him up, but it's good to lend a hand when you can."
For those that clicked this story before you Googled Tim Simona – points to you.
Now you know, footy players wear capes too.
@woodward_curtis