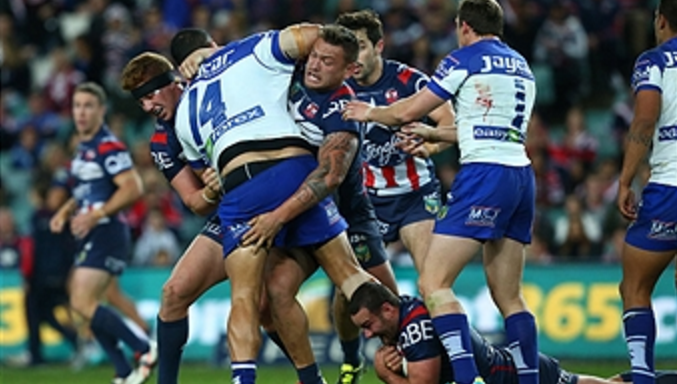 The forgotten art of fear and why Waerea-Hargreaves and Napa are the best props in the game
January 18, 2017
BY CURTIS WOODWARD
Forget Jesse Bromwich, Matt Scott, James Tamou, Aaron Woods and James Graham. The Sydney Roosters have the two best props in the National Rugby League.
That is why the Chooks rushed to extend the contracts of both Jared Waerea-Hargreaves and Dylan Napa in the space of three months.
Kiwi enforcer Waerea-Hargreaves re-signed in November until 2020 while red-headed hitman Dylan Napa agreed to terms this week. He will be at Bondi until at least the end of 2019.
While there is an argument for others, no frontrowers can change a game like JWH and Napa.
Melbourne's Bromwich might just be the closest thing to the total package. He's big, mobile and has all the class of the great props through history. But can you honestly say he puts the fear of God into opponents?
Scott has been a warrior for North Queensland Cowboys, Queensland and Australia for ages but you know what you'll get. The tough metres, 30 tackles and a heart the size of Phar Lap. He's also on the wrong side of 30.
New Penrith Panther James Tamou is a mountain of a man and good on his feet yet he lacks the intimidation factor in the defensive line.
Woods chews up the metres and has a quick play-the-ball but he's just been another prop with good stats at representative level while Canterbury skipper Graham is an old school pommy tyro who can kill you with a deft pass or all out passion but he won't run over the top of you.
Waerea-Hargreaves and Napa are brutal. They hurt. They will hit you and hit you harder the next time. Their plan is simple: Destroy.
JWH has been doing it for years while Napa has quickly become the next great force. Remember his one man assault on South Sydney last year? He sat the Burgess boys down several times and made Sam Burgess look like a second-rate Ron Massey Cup flop. That night Napa played 80 minutes. Forget the 150 metres he ran for or the 40 tackles. It was the way he swung the game with his sledgehammer hits. The Roosters won 17-10 in their first victory of the year – they'd started the year 0-5.
Nine commentator Phil Gould said that it was "one of the best defensive displays I've seen in 40 minutes of football from a forward, ever".
Napa was extraordinary.
"I've been at the Roosters since I was 17. I came here as a kid and this is where I have developed as a football player, but more importantly as a person, so I'm happy with how it's all worked out and to agree to a new two-year extension," Napa said after agreeing to terms with the Roosters on Tuesday.
"My football has progressed over the years with the Roosters, and the Club is heading in an exciting direction, so I'm happy to know that I'll continue to be a part of it."
MASSIVE NEWS! @DylanNapa has re-signed with the club! #Represent #IAMROOSTER pic.twitter.com/koudPEkrjj

— Sydney Roosters Fans (@NRLRoostersFans) January 17, 2017
The rumour mill had Napa heading to the Brisbane Broncos but Roosters coach Trent Robinson knew how much the Queenslander meant to the Tricolours' future.
In a modern game where getting to your stomach for a quick play-the-ball is more important than running over the top of someone and an arms tackle to lock up the ball is preferred to trying to put your opponent on the back of a medicab, JWH and Napa are the wildcards. The good coaches know it.
Rival clubs have props just as important to their cause like Woods at Wests Tigers and Graham at the Bulldogs. They're leaders, tough and players follow but they will never be a Waerea-Hargreaves or Napa.
Fear has become a lost art of rugby league.
The x-factor has to become a factor again.
And to think, Waerea-Hargreaves is only 27 while Napa has another decade in the game if his body holds up.
They are true intimidators.
If only we had more just like them.
@woodward_curtis