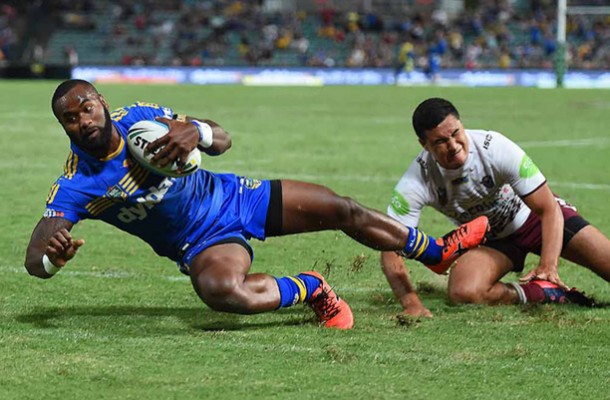 Semi's leaving? Whoopty do! Don't let the door hit your arse on the way out
January 12, 2017
BY CURTIS WOODWARD
Semi Radradra has decided to take the money and run after it was officially confirmed on Wednesday night by Parramatta that 2017 would be his final season in the NRL.
You can't blame him but that doesn't mean you have to like him either.
These are strange times we live in. Loyalty has been devoured by money and while the players get rich, the fans are expected to keep cheering as if nothing funky is happening to their game.
The Eels statement reads:
"The Parramatta Eels Rugby League Club have been advised by George Christodoulou, the manager of Semi Radradra, that Semi has accepted an offer to play rugby union for the Toulon Rugby Club for the 2017/2018 European rugby season, with an option for a second year being the 2018/2019 season.
"This option for the second season is in favour of Semi Radradra. The European rugby season operates from approximately August through May.
"Semi has a court appearance on 13 February 2017. As advised previously to Semi and his manager, Semi will fulfil his 2017 Playing Contract with the Parramatta Eels as the Club will not release Semi from his 2017 obligations to our Club; accordingly, the earliest Semi could commence at Toulon is early November 2017.
Semi Radradra has walked away from Parramatta Eels to join French Rugby club Toulon. The off season news continues. Au Revoir, Semi. #NRL

— Rugby League News (@RugbyLeagueNews) January 11, 2017
Who even cares about Semi Radradra anymore? Sick of hearing about the bloke's problems. He is no longer news or relevant.

— Blake Robinson (@CaptainCrumbz) January 11, 2017
"In early December 2016 the Parramatta Eels indicated our wish to keep Semi at our Club by making a very attractive offer to Semi for the 2017 (upgrade of existing contract), 2018 & 2019 NRL seasons.
"The offer from Toulon was substantially higher than our Club's offer. We look forward to Semi being a most productive member of the 2017 Parramatta Eels playing squad and then we wish Semi well in his rugby union venture with Toulon."
But you know what?
Who cares?
We've watched plenty walk out on the game to be immediately replaced by the next star.
And let's be honest. Radradra is more trouble than he's worth. If he wants to be like Sonny Bill Williams and go play rugby, great, but don't let the door hit your arse on the way out.
Shockingly, Semi will actually see out his contract and play for the Eels this season. After almost a year of Semi Radradra off-field drama, who has the energy to care either way if he leaves?
Semi is leaving for rugby? You can see it now. Remember the scene from comedy classic Billy Madison when Billy throws a party after passing third grade and has some terrible 1980's band playing songs in front of absolutely nobody.
"Semi's leaving for rugby, oh what a glorious day, Semi's leaving for rugby, the Semi Radradra way!"
Meh. Whatever. That Bevan French looks a good player.
@woodward_curtis