We pick our 2017 Indigenous All Stars team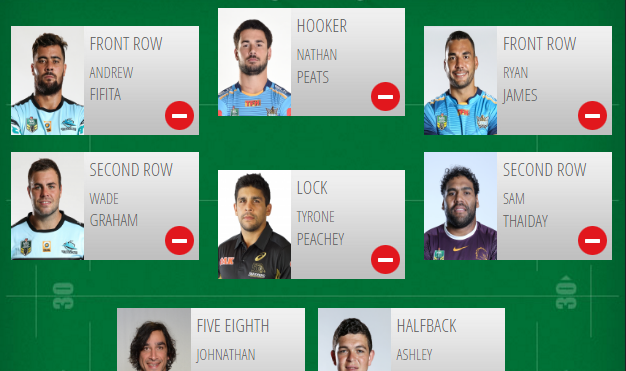 BY STAFF WRITERS
Here we were twiddling our thumbs on a lazy Thursday afternoon when it came to us. Let's pick our 2017 Indigenous All Stars team. We know, we do genius for breakfast. So here goes. You can leave your comments below but please be gentle!
Fullback: Greg Inglis
This is not fair. Greg Inglis by the length of the street. He's a legend of the game and one of the first picked in this team.
Honourable Mentions: Latrell Mitchell, Bevan French.
Centres: Blake Ferguson and Will Chambers
Picking representative sides like these, you have to select your centres first. We really wanted to pick Jimmy 'The Jet' Roberts and we really, really wanted to pick Jack Bird but Ferguson and Chambers get the nod. Got a feeling we'll see Roberts and Bird again.
Honourable Mentions: James Roberts, Jack Bird.
Wingers: Bevan French and James Roberts
Already honourable mentions for French and Roberts so we can't leave them out.
Honourable Mentions: Alex Johnston and Edrick Lee
Halfback: Ash Taylor
Simply for his development alone, let's pick the 2016 Rookie of the Year. We very nearly went with Aidan Sezer but why not throw Taylor in there?
Honourable Mention: Aidan Sezer
Five-Eighth: Johnathan Thurston
It's Johnathan Thurston.
Honourable Mentions: Not applicable. It's JT!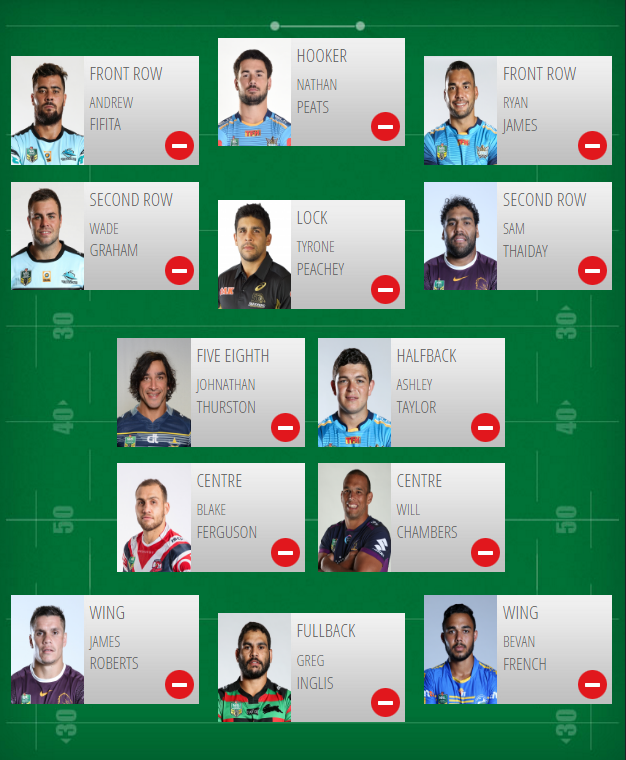 Hooker: Nathan Peats
Peats should be the New South Wales hooker next year but hey, what we would know? Peats first here, daylight second.
Honourable Mention: Connor Watson
Props: Andrew Fifita and Ryan James
One is a New South Wales front-rower and one should be. Over the years, Indigenous have struggled for quality and size in their engine room. They got it now.
Honourable Mention: Leilani Latu
Second Rowers: Wade Graham and Sam Thaiday
What a backrow this is. Graham has the mongrel and soft hands while Thaiday brings experience and an ability to play middle or fringe.
Honourable Mentions: Tyrone Peachey and Joel Thompson
Lock: Tyrone Peachey
Misses out on the second row but playing him at lock makes him even more dangerous. Can graze the field and insert himself into the game whenever he pleases.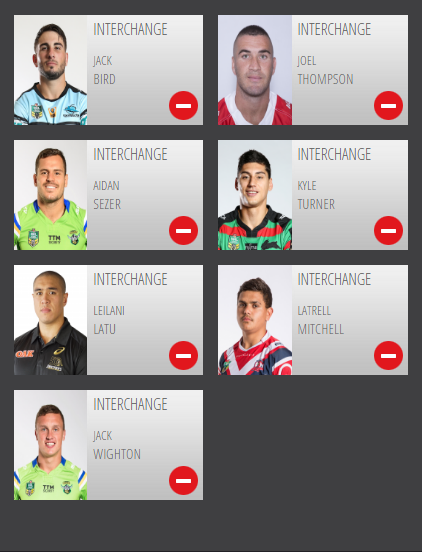 Bench:
Jack Bird
Joel Thompson
Aidan Sezer
Kyle Turner
Leilani Latu
Latrell Mitchell
Jack Wighton
You can vote for your team here: https://allstars.nrl.com/