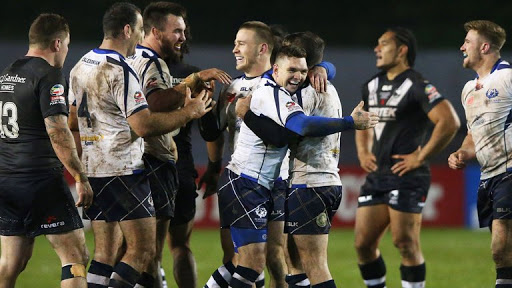 Humble English club puts whinging Kiwis in their place
November 17, 2016
BY STAFF WRITERS
English battlers Workington Town have hit back at those whinging Kiwis after complaints from the New Zealand team that the facilities at Derwent Park weren't up to scratch.
Scotland drew 18-all with the World's best team in a shock result but it seems instead of giving Scotland the credit they deserve, the Kiwis would prefer to moan about the humble ground they were.. humbled at.
Showing the class that New Zealand should have showed, Workington released a short statement saying, "Everyone involved at Workington Town believes in and lives by the sporting principles of dignity and graciousness. We were very proud to host the New Zealand team at our stadium and they are welcome back any time".
Club statement pic.twitter.com/BmnhtIzLbL

— Workington Town is wearen a fyas cuvveren (@WorkingtonTown) November 16, 2016
The big boys sometimes forget their role in spreading the rugby league gospel. Occasionally they forget that you can't actually play every game at ANZ Stadium or Suncorp.
Luke Douglas quote in the Herald on Workington game: "We were packing down in the scrums and they were literally saying 'this is a sh**hole"

— Love Rugby League (@loverugbyleague) November 16, 2016
Workington is a small town hundreds of kilometres from anywhere. For sports fans in the area, seeing the likes of Shaun Johnson and Issac Luke would have been the highlight of their year. The Kiwis ruined it for them.
It's not often folk in the United Kingdom support the Kangaroos but there may be a few more backing Australia this weekend in the Four Nations Final.