Au Revior Mate: $emi Radradra has lost the fans and there's no turning back now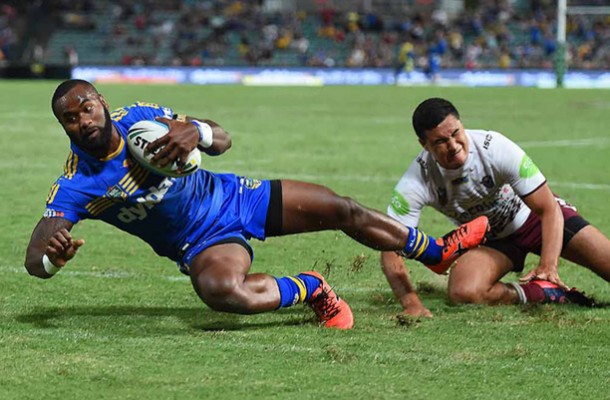 BY CURTIS WOODWARD
There has been another twist in the saga that is Semi Radradra's life after Radradra's manager denied the Fijian flyer had signed a lucrative contract with French rugby union powerhouse Toulon.
Toulon announced on its website that it had signed the Parramatta winger but his manager, George Christodoulou, said Toulon has "jumped the gun".
Christodoulou confirmed to News Corp that an offer had been tabled for 2018 but said nothing has been signed.
"A pre-contract, let alone a final contract, hasn't even been issued to us," Christodoulou said.
"Nothing has been signed.
"Yes, the offer on the table is a good one, which is for 2018, but nothing has been signed."
Radradra would be joining Wallabies stars Matt Giteau, James O'Connor and Drew Mitchell at the French powerhouse.
I doubt there will be any need to send an invite to Semi Radradra for any future @Kangaroos reunions. Zero integrity.@TheParraEels #Radradra

— Andrew Voss (@AndrewVossy) November 28, 2016
Semi Radradra has gone too far over the crazy line. Not hot enough to pull this off. Time to say goodbye. pic.twitter.com/JRYeOtKOpf

— Curtis Woodward (@woodward_curtis) November 28, 2016
BREAKING: Fox Sports News understands Semi Radradra has signed a one-year deal with French Rugby club Toulon pic.twitter.com/LOD5BnGUDL

— FOX SPORTS News (@FOXSportsNews) November 28, 2016
It's been a whirlwind week for Radradra who was issued with an arrest warrant this week after failing to appear in court over domestic violence charges which he has pleaded not guilty to. The former Kangaroos winger wasn't even in the country and is currently in Fiji with his father who is struggling with health issues.
Radradra's impending move to Toulon has become the next worst kept secret in rugby league and fans are angry.
There was uproar when Radradra was allowed to represent Australia despite being a proud Fijian and ineligible for New South Wales in State of Origin. He confirmed that his switch of allegiance was purely a financial decision.
In late 2016, Radradra simply went missing but eventually came back to Sydney on a flight with former teammate and NFL convert Jarryd Hayne.
After the season coach Brad Arthur has had, you wonder how much patience he has. The Eels plucked Radradra from a tiny Fijian village and made him a superstar. But it is time for the club to cut its losses. This is a huge test case for Parramatta and what kind of club they want to be moving forward.
The issue of Arthur's patience may not be a problem at the end of the day anyway.
Radradra already has eyes for France.
And once he goes?
He becomes another good winger who could have been great.
@woodward_curtis