Tail wagging the bulldog: Why Hasler is on borrowed time at Belmore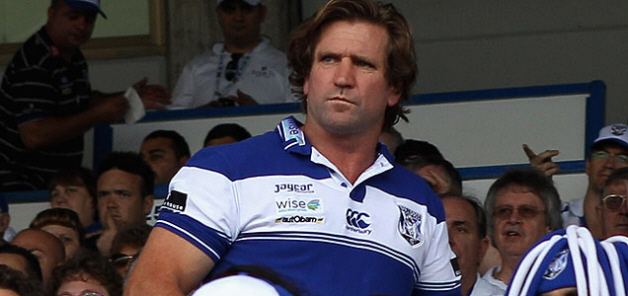 BY CURTIS WOODWARD
Canterbury Bulldogs director Steve Mortimer has told Fairfax that the emergency meeting over coach Des Hasler's future has come from the players themselves.
Directors will meet on Friday to decide Hasler's fate. Despite making two grand finals under Hasler since 2012, Mortimer believes the club is losing its DNA.
"I've had a couple of footballers say to me as a director 'Turvey, we're losing our DNA, the Bulldogs,'" Mortimer said.
"I sat down with them and I'm saying, 'I think we might be'.
"I'm old enough to have played two years with the Berries and I've got an idea of how the former coaches have strengthened the DNA of the Bulldogs in winning, getting up in the finals and even winning a premiership.
"The players who have come up to me saying we are losing our DNA and I've had a look at it and I understand what they're talking about.
"That's why the directors [want to] review this and look for the betterment of the Bulldogs to make them the greatest club and team.
"It's about winning premierships. It's about being up there. It's about developing your own – even though I came from Wagga – good players. That certainly hasn't happened over the last five years."
Mortimer's claim flies in the face of a roster that includes a long line of stars that have never played for another NRL club. James Graham, Sam Kasiano, Josh Jackson, David Klemmer, Josh Reynolds and Moses Mbye all made their debuts at the Belmore club.
Canterbury made the playoffs again in 2016 and went down to Melbourne and South Sydney respectively in grand finals in the last five years.
In only June this year it was reported that Bulldogs CEO Raelene Castle had offered Hasler a contract extension until 2019. But all that has changed in the back half of the season.
"There is going to be a board meeting on Friday and that is the main purpose of the meeting, to discuss Des Hasler's contract extension," Castle told News Corp yesterday.
"The truth of the matter is that we are still in negotiations with Des and his management and there has been no final decisions made on anything."
The fact is, Hasler is one of the best coaches in the game. If anything, Canterbury's offensive game plan was off this year but it's hardly enough to warrant blaming Hasler for a change in the club's culture.
There is more to this than meets the eye.
The players don't want Des. They don't want to play his style any longer.
A perfect example of the tail wagging the bulldog.
@woodward_curtis