The Blueprint: Seven steps to victory for Illawarra over Mounties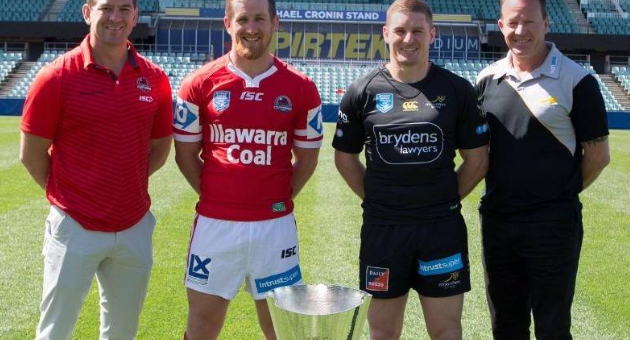 The Intrust Super Premiership decider is this Sunday at Pirtek Stadium between runaway minor premiers, Mounties and the Illawarra Cutters. Under the guidance of halfback Sam Williams, Mounties have been the team to beat all season and it will take a mighty effort from the Wollongong boys to snatch the trophy away.
But that is the beauty of rugby league. It's eighty minutes. Whoever comes out on top this Sunday will be declared premiers of the Intrust Super Premiership for 2016.
Along with the rest of the The81stMinute Commentary, I've seen plenty of Mounties this year out at Aubrey Keech Reserve.
So I thought I'd make it interesting and help out the Cutters.
Here are my tips for beating the minor premiers this Sunday.
I'm still tipping Mounties but it should be a heck of a game!
Stopping Sam Williams
Easier said than done with this guy. The Intrust Super Premiership player of the year has had a stellar season and looks a class above most times he's out there doing his thing. Williams is a good little halfback at NRL level but he's an absolute gun in this competition. It's about shutting down his time with the ball. The problem is he has so many options around him. He has Jarrad Kennedy, Jeff Lima or Shaun Fensom short on the hard line, deadly fullback Zac Santo out the back and plenty of weapons outside Santo including Brenko Lee. If you're going to rough him up and put pressure on him, you can't come up alone because a quick shift and Mounties will burn you from anywhere on the field. Isn't afraid to kick early and often so Illawarra's wingers need to be on high alert at all times.
Ruck Momentum
This is some kind of forward pack. Lima, the Kennedy boys, Fensom, Adam Clydesdale and Scott Sorenson. After all that, they bring on the very talented Glen Buttriss. And then they have two unsung heroes sitting on the bench that will get game time at around the thirty minute mark. Willie Mataka and Royce Hunt have been invaluable for Mounties this season and make it their mission to intimidate, run hard and make as much impact as possible. They love a try too so watch the crash ball under the posts. The Cutters don't have the biggest pack in the world with Shannon Wakeman at prop, former half Josh McCrone at dummy half and Saliva Havili at lock. It's going to take a huge effort from the Cutters boys and they have to match the firepower of Mounties and their big men. First contact has to be good at all times and the intensity has to be high. Hit hard, hit often and don't miss.
The Back Three
Santo is a great little fullback and can hurt you from anywhere on the field. Kick for the corners and kick for touch as much as possible. Give Santo as little amount of time to create situations as possible. Where possible, kick for Eddie Aiono's left wing. He loves to skip across field and fight out of tackles. Get numbers down there and let him bounce around as it will give you time to set your defensive line and will cramp Mounties as they begin their set.
Kennedy and Sorensen
Last year the one-two punch for Mounties was Mitch Cornish to Kennedy on the right hand edge. Their combination was the most dangerous in the competition. Williams hasn't missed a trick with the short-ball option to Kennedy as lethal as ever. It's all about making good decisions in the line, especially under fatigue. You know it's coming but it's about stopping it. Sorensen can hit you from further down field. He loves getting early ball in a little bit of space and having options around him.
Early Blitzkrieg
Coach Steve Antonelli would have been absolutely furious with the way his team came out and played last weekend against Wests Tigers at Leichhardt Oval. They got away with the win by the skin of their teeth. This team is on the cusp of something special and that's why the Cutters should be expecting an all-out assault in the opening exchanges. Line speed is critical. Get up, make the tackles and win the ruck. Try to stay calm and keep yourself in the game.
Jeff Lima
The veteran prop has it all. He can tuck the ball under his arm and do the tough stuff and more alarmingly – has really crisp hands for a big bloke. Most team have a few bookends that can play at the line but few have the confidence that Lima has in his own game. Don't watch what's happening outside Lima if the shift is on because the man with the ball is the most dangerous player on the field. Treat Lima like a halfback and respect his ball-playing ability.
Keep Playing Footy
Mounties are never dead. Even if you're up by twelve with ten to play, don't shut up shop and try defend your lead. They have too much experience and class to ever truly be out of the contest. Back your instincts and play footy.
*Steele Sports coverage of Intrust Super Premiership Grand Final day begins from midday with coverage of the Sydney Shield, Ron Massey Cup and Intrust Super Premiership deciders.
@woodward_curtis