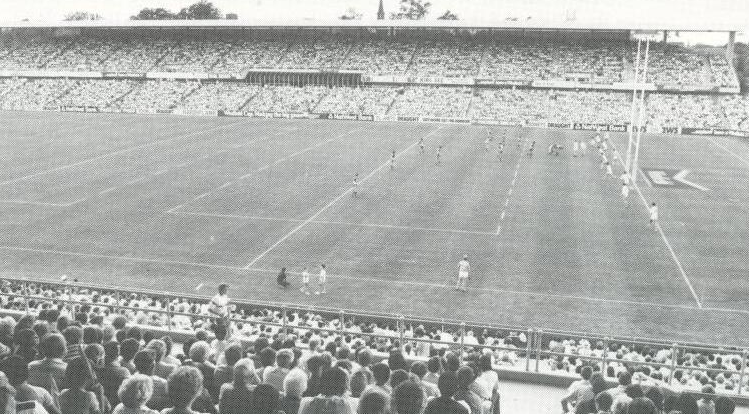 Parramatta Stadium takes centre stage for the final time as blue and gold curtain comes down
August 29, 2016
The only game of footy I ever got to call at Parramatta Stadium was the Ron Massey Cup grand final last year. Not much to write home about. My claims to fame so far are a Canberra versus Newcastle NRL trial in Orange and a NSW Cup grand final at the Sydney Football Stadium.
Has Ray Warren done any of that? Woodward 3, Warren 0.
I have had the chance however to see Leichhardt, Kogarah and Belmore amongst others and sat in the same boxes as some of the all-time greats.
The closest I ever really got to being part of Parramatta Stadium's history was when I hosted the pre-show for 2GLF's Western Sydney Wanderers A-League coverage. While I barely knew a thing about the A-League or soccer in general, I couldn't turn the opportunity down. I took the chance to soak it all in and make mental notes every weekend I was there.
As a non-driver, I took the train when I could and walk to the ground from the train station. "Did you hear Kenny and Ella are in today?" I could hear the fans.
I lapped the ground and sat in the eastern grandstand as the sun went down behind the broadcast side and the shadows chasing players as they dove in for the match-winning try, "that will do it, try to Grothe!"
When it was time for kick-off in those Wanderers games it was also time for me to take off my headset and go and sit in the crowd. You have to give those supporters credit. If you haven't been to a Wanderers game, you have to go at least once just for the atmosphere. I thought that this is what it must have been like in 1986 or even 2001 or 2009. A mass of raving mad, one-eyed Eels fans, living and dying by every play. There was even a day when I decided to give myself a self-guided tour of the dressing rooms and the bowels of the stadium.
If those walks could talk.
If you listened hard enough you may have heard Jack Gibson's final instructions before battle, the moans of a weary warrior as the team doctor tries to pop that damned shoulder back into place or Dennis Fitzgerald haggling numbers with an unsigned champion.
Tonight, the Eels run out onto Parramatta for the final time and ironically it's against St George Illawarra. In 1986, in the first match ever played at the ground, Parramatta defeated the Dragons 36-6 with Neil Hunt crossing for a double and kicking four goals.
At the final siren, goalpost pads will be taken down, corner posts ripped out of the ground and the painted lines on the hallowed turf will fade away.
It's funny the flashes you remember as a child.
For me, I only even ventured to Parramatta Stadium once as a fan. It was in 2001 and Wests Tigers prop Corey Pearson making a very rare break. Parramatta won 18-4.
Your first-hand memories are most probably far more impressive than my Corey Pearson story.
That's the thing – Eels fans will never lose the memories this ground has created for them.
It's theirs forever.
And while recent times have brought nothing but darkness for Parramatta's supporters – a new day awaits.
A $300 million redevelopment will mean a brand new arena for the next generation and the generations after that.
I wonder if Parra fans will burn it to the ground if they win tonight.
@woodward_curtis