Hey Woodsy – time to drop the #2040 hashtag and start promoting the WESTS Tigers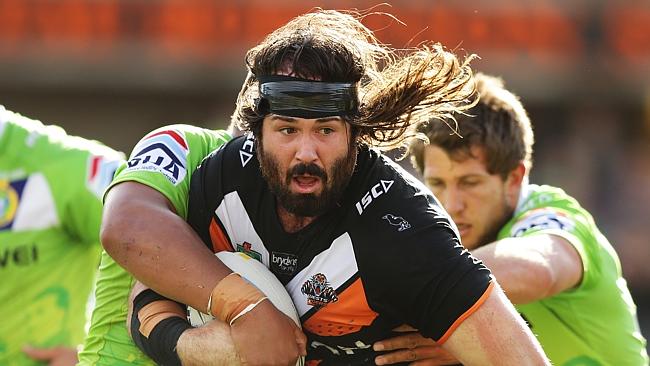 So I am sitting at Leichhardt Oval on Saturday afternoon after New Zealand Warriors' demolition job of Wests Tigers in the Intrust Super Premiership and was probably (actually I was) the only bloke in the world who saw the scoreboard attendant hastily switch the Warriors sign with Manly-Warringah's as they were playing on the Monday night.
What made me chuckle was the fact that he did it while the NSW Cup match was still being played – such was the annihilation.
Why was I staring up at the hill and that old scoreboard in the first place?
At the bottom right of the scoreboard it says '2040 4Ever' (the postcode of Leichhardt for those playing at home).
When you're watching an Intrust Super Premiership match, despite it being Wests Tigers, you don't get as fazed. Off course, the people of the inner west are allowed to love and cherish this old gem but that '2040 4Ever' haunted me on Monday night after Wests Tigers' emphatic victory over the Sea Eagles.
Aaron Woods had just run for almost 200 metres and Triple M's Steve Mascord, being the talent that he is, quickly grabbed the big skipper to get his post-match thoughts.
Asked about Leichhardt Oval, Woods proudly responded, "I love it – it's my favourite place."
Looking at it for what the comment is, it really doesn't mean that much. Woods is a local junior and has Balmain in his blood.
The problem for some could be that continued love on Twitter which frustrates some Wests Tigers fans. Not Western Suburbs fans, Wests Tigers fans. There seems to be a changing of thought process from fans who were traditionally Balmain or Magpies supporters. For them, it's time to get behind Wests Tigers and anything, however small, that can jeapordise growth is an annoyance they do not need.
Woods is the Wests Tigers captain and hashtagging #2040 on Twitter is not a good look.
In round one at Campbelltown, a tick over 10,000 fans came out to watch Wests Tigers and the Warriors.
You can bet your bottom dollar there will be plenty more next time.
And the same can be said for Leichhardt who had about the same figure for Monday night footy.
On the field the Wests Tigers are shocking plenty of people with two outstanding performances against more fancied opposition.
The problems for this joint-venture club are the same as they've always been – favouritism or the notion of it.
Sixteen years ago in their first ever match, one side of Campbelltown chanted "Tigers" while the other side chanted "Wests".
Those days are long gone but there is still a frustration out there from some.
We've heard plenty about Wests Tigers needing to invest, if not completely, in the Macarthur region.
The word respect doesn't get used enough.
I won't mention the player's name but a few years ago I was part of a conversation with a Wests Tigers official (who happened to originally be a Balmain man) and this player who had somewhat resurrected his career at the club. Perhaps thinking I too was Balmain, the player shook his head and said, "I f****** hate playing at Campbelltown".
There was a laugh, a forced one from me, and that was that.
Balmain's deadline to repay $5.4million to the NRL is only two weeks away and there is a strong possibility Wests Ashfield will own the club outright.
Then the Wests Tigers will face another problem – a small faction of Balmain diehards feeling like their piece of the pie has been taken away.
Eventually people will realise that Wests Ashfield owning the club isn't a bad thing but a chance to drag this franchise into the future and force change.
But there is still plenty of water to go under the bridge.
On the field, Wests Tigers excite me. They remind me of their premiership team of 2005. So good was their performance I watched highlights on NRL.com the following day.
The first words out of the reporter's mouth?
"Wests Tigers returned to their spiritual home of Leichhardt Oval…"
Some things never change.
@woodward_Curtis
Video source: RLeagueVids