Water Bottles, Big George, Allah, Buddha and Those Mad Kids at the NRL
Rugby league was once a simple game played for simple pleasures played by tough, uncompromising men.
As the world and its technologies expand, we the people, become dumber. Our concentration spans are pulverised, our own opinions are swapped with a murky replacement fuelled by an unwavering assault of politically-driven media and our addiction for tabloid journalism is only outmuscled by said politically-driven media's addiction for said tabloid journalism.
I don't know about you but I feel drunk from it all.
Finals football is meant to quell the addiction.
Yet instead of talking about the final eight teams left in the race for the NRL Grand Final, the bizarro planet we live in has infiltrated the world of rugby league. Footy has always been a little strange and had more scandals than you can poke a stick at but things are just getting downright weird. In a politically correct world where only last week Kellyville primary school stopped their kids from wearing jerseys to school in support of organ donation because it may offend some sectors of the religious community.
Excuse me?
'Sparky' The Eel slapped on a blue and yellow jersey could offend Allah, Buddha or Jesus Christ?
The segway here takes us right onto Anzac Parade and into Allianz Stadium where last weekend the Roosters hammered arch rivals South Sydney. At one point in the match, Roosters bookend Kane Evans trotted from the field for a well-earned rest. He passed the Souths bench where Rabbitohs mammoth George Burgess tossed a water bottle at the big Fijian. Did you hear that? George Burgess tossed a WATER BOTTLE at Kane Evans!
What's the right reaction here?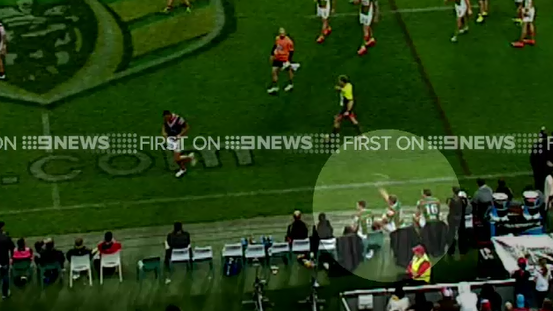 LOL?
HAHA WTF?
Big George is an idiot; give him a $20,000 fine and move on?
The answer is D – Burgess was hit with a grade two contrary charge meaning the Englishman was rubbed out for two weeks. Thank heavens though Souths are fighting it with the club hoping to get it downgraded. But even if it is downgraded, Burgess would still miss a week.
LOL!
HAHA WTF!
Rugby league is simply a window into a much wider epidemic of political correctness and Mr. Burgess is feeling the full wrath.
Burgess deserves a fine but to miss finals footy, any footy, for something as dumb as this is beyond belief.
"Missing two games, semifinal games, is harsh," Cronulla captain Paul Gallen told Sky Sports Radio.
"But I don't think anyone can doubt that the incident itself was a little bit silly.
"A fine and a talking to probably would have been a little bit better.
"I think he'll probably get a downgrade."
Screw that!
Slap him with a fine and drop the charge altogether.
With Jarryd Hayne making buddies at San Francisco, it's a guarantee at some point he'll sit down with his new mates and watch some NRL Finals.
But you know what, Jarryd?
Don't show them, don't watch it, and don't even mention your NRL career because this is getting out of control.
Things are getting a little nutty and we don't know how to stop it!
When does the NFL start?
@CurtisWoodward1
Video Source: Channel Nine