Justin Hodges Deserves Better from our "Tough" Old Game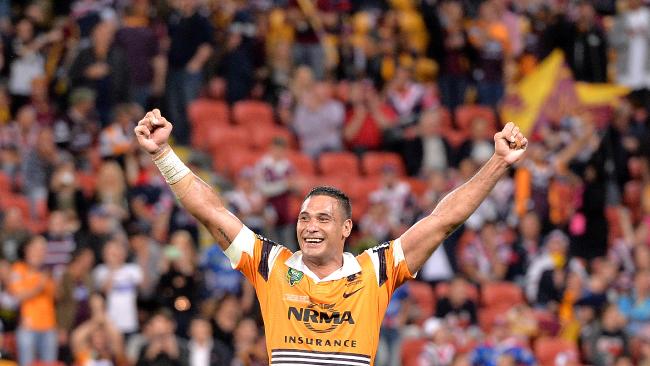 It is the spring of 1989 and the Penrith Panthers' Chris Mortimer is preparing for a semi-final. Only problem for the classy utility was a broken thumb that threatened to keep him from action.
A steel pin surgically placed into the thumb began to push itself outward and Mortimer returned to his doctor.
"Chris went to the doctor who told him he'd fix it up but he couldn't play in the semi," brother Steve recalled.
"So Chris got a pair of pliers from the groundkeeper's office, pulled it out, bandaged his arm and played."
That is tough.
Then there is Shane Webcke who had absolutely no right being involved in the 2000 Grand Final for the Brisbane Broncos against the Sydney Roosters. For you see Webcke had a badly broken arm. Against the advice of the medical staff, Webcke went to battle against a Roosters pack that included Luke Ricketson, Craig Fitzgibbon, Peter Cusack and Bryan Fletcher. Webcke, as was almost always the case, played like a man possessed.
Tough.
What about Adam Dykes?
You may not have known that the former Cronulla five-eight had surgery only five days prior to a semi-final against Newcastle in 2001. Post-surgery, Dykes was straight into a friend's pool to the early hours of the morning in an attempt to take the field. He made it.
That's tough.
There are stories like this everywhere. That's what footy players do.
Do we need to go through the punctured lung of Andrew Johns prior to a grand final in the late 1990's?
We'll leave that to former Kangaroos doctor Nathan Gibbs.
"I was the Manly doctor at the time (in 1997) and I made the point in an article that was written at the time, saying that it was quite dangerous and medically this guy could die," Gibbs said.
That's bloody tough.
These are just the stories of a few men desperate enough to risk everything in a bid to help their team.
We'll never ever forget John Sattler's heroics for South Sydney in 1970 and those of Sam Burgess fourty-odd years later.
But at lease these men had the chance to get there.
Brisbane's legendary centre Justin Hodges will wake Tuesday morning wondering if he has played his final game of rugby league.
Not because of a broken arm, a steel pin or a punctured lung but because of "carry-over points".
Last Friday night in the preliminary final at Suncorp Stadium, Rooster Aidan Guerra ran into the Broncos line. With team-mate Ben Hunt over the top, Hodges grabbed at the legs and ankles of his Queensland team-mate. All the momentum was with Hunt as Guerra rolled with said momentum, landing in a horrible position in the Suncorp turf. Also in Hodges' defence was the fact that his hands never go between Guerra's legs. There just isn't enough in the tackle to rub Brisbane's skipper out. But how much do you want to bet that it does, anyway?
Melbourne's Cameron Smith missed the 2008 decider because of an innocuous chicken wing tackle while South Sydney was without Issac Luke last year because of a dangerous throw.
Where's the toughness here?
Does Hodges deserve to miss the grand final, his last ever game, because of a tackle like this?
Nobody is saying we need to ignore illegal play.
We just need to look at the outcomes and use some common sense.
While this story could rattle on forever about desperate men doing immeasurable things to play the game we all love, we as a game need to start being a little more desperate to keep our players on the field.
Webcke got to play in his grand final, as did Johns and Mortimer.
Yet in his final ever match, a decider no less, we're about to erase Hodges' dream?
That isn't tough.
@woodward_curtis
Video source: news today for time