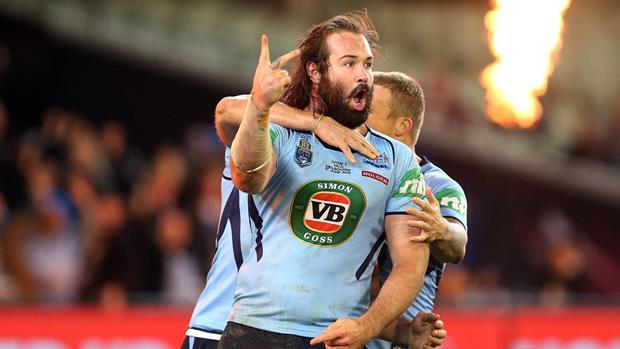 Blues Set to Ambush Hodges' Maroon Swansong
July 6, 2015
It is Game III of State of Origin 2011 at Suncorp Stadium and the Queenslanders have just secured another series win, downing New South Wales 34-24.
This would be QLD's series yet again, another moment. It was all setup for a famous Maroons win. With the series locked at 1-1, Darren Lockyer would be hanging up his boots after 36 remarkable Origin appearances.
After eighty minutes of footy, in front of 52, 498, Queensland had won again.
As the Maroons celebrated, a faint applause became a thunderous ovation as the injured Johnathan Thurston appeared from the tunnel at the south-western end of the ground. Earlier he had been taken from the field with a horrible knee injury. Yet here he was, being rolled out in a wheelchair to celebrate with Lockyer and his QLD brothers. It was perfect; it was sporting theatre at its very best. The Blues had lost again. State of Origin's greatest dynasty would continue.
"The image of Johnno, crying his eyes out with what must have been a storm of emotions, being embraced by his teammates is one that will stay with me for the rest of my life" Maroons coach Mal Meninga wrote for The Courier Mail at the time.
"When the annual television highlights packages are being put together to celebrate the series, this should be the moment used to exhibit what State of Origin is all about.
"It brings a tear to my eye talking about it, to be honest with you.
"That moment represented everything in this team's value system that we have built our success on.
"There is no individual success without team success, just like there cannot be 16 players celebrating success, and one left nursing a broken heart."
With Lockyer's swansong and Thurston's return to the field post-match, with hindsight, it's easy to think the Blues never stood a chance.
You can't fight fate, some nights are just meant to be.
Fast forward to 2015 and Justin Hodges is preparing for his final match in maroon, the series is tied at 1-1 and the Blues head to Brisbane to take on the biggest challenge in rugby league.
Yet something feels different.
NSW aren't facing another embarrassing series defeat, they're not tainted by QLD pummeling's, they're the champions.
Every word that has come from a NSW player's mouth in the build-up has reeked of a steely confidence.
They enjoy the battle, the fight, and the challenge of winning in Brisbane.
Only Brett Morris, Mitchell Pearce and Trent Merrin have survived from that Game III 2011 team. Remarkably, the Maroons boast eleven players from that team four years ago and if it wasn't for Billy Slater's season-ending injury, it would have been twelve.
Blues fans, and perhaps even some ageing veterans, could have been excused at one point of praying for the day these great Queenslanders retire instead of making their own history.
But coach Laurie Daley has this squad ready to weave their own Origin history rather than let it pass them by.
Meninga again.
"It reinforced to me that the key to the success of this Queensland team [Game III 2011] is not just that the team believes in what we are doing, who we are, and what we aspire to, but the Queensland people that we represent believe in it to. It is a part of who we are as Queenslanders, and it is why Origin means so much to the people of this state.
"That special bond is there."
Andy Warhol once said, "They always say time changes things, but you actually have to change them yourself."
Try telling these NSW players that Justin Hodges deserves his Origin moment over their own or that their growing bond isn't enough to beat Queensland in their backyard.
Time will tell, it always does.
@CurtisWoodward1
Video source: scottflorris